This article first appeared in City & Country, The Edge Malaysia Weekly on September 12, 2022 - September 18, 2022
In 2010, Tom van Soest was studying at Design Academy Eindhoven in the Netherlands — one of the world's leading design schools — when he developed an interest in construction and demolition waste. Two years later, he came up with a new material upcycled from demolition waste for his graduation project, drawing the attention of long-time friend and entrepreneur Ward Massa. In 2013, the duo co-founded Amsterdam-based StoneCycling, with the aim of making new building materials from demolition and construction waste.
"We dug up tonnes of raw materials every year to turn them into the building products that make up our cities and infrastructure. The need for alternative resources and production methods is becoming an ever more pressing necessity. This is why Tom began grinding, crushing and mixing the waste in his homemade industrial blender, resulting in unique waste-based building materials that were both resilient and appealing," Massa tells City & Country in an email interview.
They extended van Soest's research and design processes and, thereafter, developed StoneCycling's first product series, called WasteBasedBricks in 2015. A sustainable product made from 60% mineral waste, WasteBasedBricks are said to offer 25% energy savings in production over ordinary bricks. They were originally manufactured from 100% debris, but the amount of waste material was reduced to compete in the market and to produce a more ­traditional-looking brick.
According to Massa, WasteBasedBricks have properties similar to ordinary bricks but are stronger and require less water intake. To meet the design needs of each architectural project, WasteBasedBricks are produced in a variation of sizes, shapes, textures and colours.
He says: "At the moment, we work with very specific and well-separated quantities of waste. This is a mix of construction, demolition and industrial waste. We also work with waste collection and recycling companies. For instance, when an office building or nursery home is demolished, a lot of white ceramics — such as toilet bowls, sinks and bathroom tiles — usually go to waste.
"We will process these ceramics by cleaning the materials and grinding them into a fine rubble. If you look at our sliced texture bricks, you will see lots of white specks. These are the pieces of ceramic from one of the 'donor' buildings."
The process of sourcing demolition waste from a specific development and reintroducing that material into a new project at the same location is labour-intensive and requires complex logistics organisation. This is why StoneCycling is careful about selecting the waste streams that it works with, as well as the contracts with suppliers, to guarantee the quality of its products.
"In this regard, we will run pilot tests to see the complete process of returning waste from a donor building back to the same project. Depending on what we encounter in the process and the results of the final product, we will see whether and how we can take this further in the future," says Massa.
Eco-friendly construction materials
Massa explains: "We differentiate ourselves by focusing primarily on the use of waste as a resource instead of digging up natural and limited resources for our production.
"It takes time to make the products, and we often provide custom work for big projects. We will work with architects and other professionals because the minimum order quantity of the bricks and stone slips within Europe is 200 sq m."
StoneCycling is Conformitè Europëenne (CE)-certified and meets European Union standards for health, safety and environmental protection. The company has been continuously moving towards its mission of producing beautiful building materials made from 100% upcycled waste and that have a positive carbon impact on the planet.
"Even though the road ahead is long, we are committed to moving forward. We always aim to expand our range of the WasteBasedBricks series by experimenting with new cutting-edge technologies, making different types of building materials for a variety of applications, and developing dry-stack systems that can be disassembled at the end of their lifespan," says Massa.
More importantly, the building materials supplier often engages with architects, designers and project developers in the value chain across the world on the possibilities of upcycled waste. "We feel a strong responsibility and see the opportunity to change the approach to sustainable building, even in the traditionally conservative building sector," he says.
According to Massa, the process from creating the idea to realising the project is complicated, as it involves various companies, each with different goals and ambitions. "In everything we do, upcycling, design and craftsmanship play an important role. Beyond functionality, we are committed to proving that waste can be a resource that opens up a new range of aesthetic and surprising forms, textures and colours. We are also constantly investing time and effort in developing new formulations, which lead to having a building material that is safe to use and of the highest quality."
StoneCycling produces unique and beautiful materials that allow architects to realise their design.
"When it comes to designing bigger projects, we will work closely with our design teams to think about the suitable colour, texture, size and shape of the products. Together with our production partner in the factory, we will set up the process in such a way that we can be flexible in changing up the waste materials that we use. This gives us room for experimentation, which is essential for the type of projects we like to work on," Massa says.
He notes, however, that as the process of making bricks is labour-intensive, it will never be fully automated by machines or robots. Also, it requires craftsmanship from experts in the field.
"Having said that, we will experiment with new firing techniques to reduce our carbon dioxide (CO2) emissions. Currently, forest-compensated gas has been used to reduce energy consumption, but we are working hard to get to a point where we do not emit any CO2 during the production stage."
Façade made of upcycled bricks
One of StoneCycling's notable projects is The West in Manhattan, New York City, designed by Amsterdam-based architecture firm Concrete. The residential block comprises 219 apartments, offering studio as well as 1- to 3-bedroom units.
Completed in 2021, The West is located on 11th Avenue and features extensive communal spaces and outdoor areas. The base of the building offers a loft-type experience, with a robust brick façade made from StoneCycling's "truffle-shine" brick. This type of brick has a vivid dark grey tone that reflects daylight and direct sun, which creates a vibrant finish.
Massa says no fewer than 42 different shapes and sizes of this brick were made to fully cover each corner and curve of the façade with its shiny grey look. The building's brick façade is made up of almost 580,000 pounds of demolition and industrial waste.
The façade of the first seven floors echoes the loft buildings dotting the area, while the upper floors feature terraces of various sizes, a fully glazed façade and a rooftop terrace. The eighth floor represents a break in form and hosts a large outdoor terrace with a lounge and dog run.
Inspiration for units at The West was taken from the classic New York City loft, which features natural oak flooring, high ceilings and oversized windows that provide expansive views. Additional amenities offered within the development include a fitness centre, yoga studio, children's playroom, dog grooming station and rooftop pool.
Sitting above the base of The West is the five-storey Cloud Residences. "These apartments on the top floor make the most of the views over Manhattan and the Hudson River," Massa says. "The glass boxes [of the apartment units] pop in and out, creating a contemporary cloud-like building that offers scenic views of the surroundings."
Cloud Residences is designed to maximise light, space and alluring waterfront views. "Each residence comes with natural oak flooring and sliding glass walls that allow maximum flexibility for a personalised home design. For the master bedrooms in Cloud Residences, the spaces are finished with Calacatta lustrous marble countertops and nickel fixtures, with white ceramic tile wainscoting above terrazzo flooring," says Massa.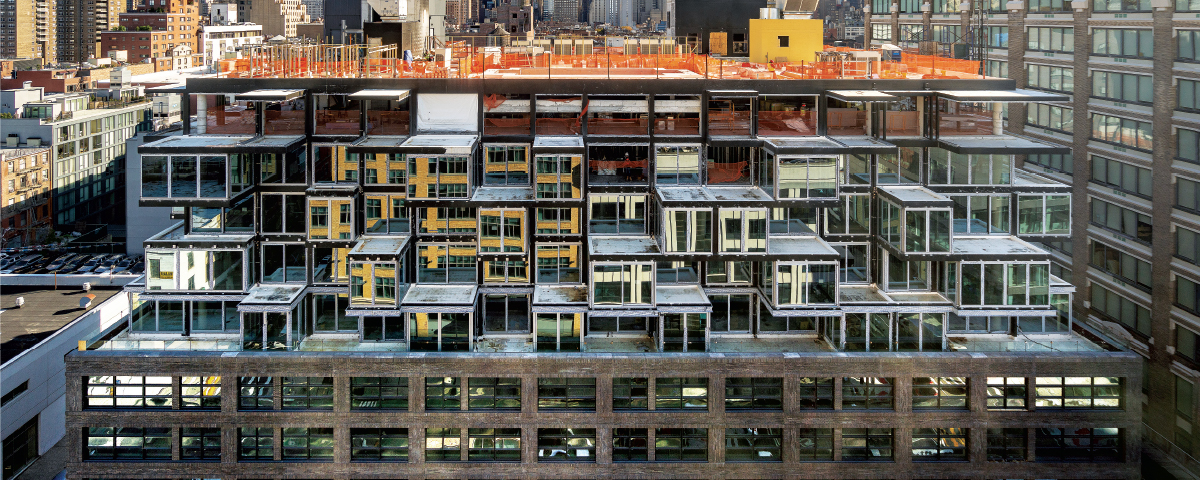 The West building's brick façade is made up of almost 580,000 pounds of demolition and industrial waste (Photo by OZ Architects)
Industrial charm at Oostenburg
Another project of StoneCycling is De Vijzel in Oostenburg, Amsterdam. Designed by Amsterdam-based OZ Architects, the five-storey De Vijzel has a modern industrial look. Completed in 2021, De Vijzel consists of 21 exclusive freehold apartments, ranging from maisonettes to a penthouse. Boasting panoramic views of Wittenburgervaart and the city centre of Amsterdam, the building has a steel façade and is constructed from circular concrete, exuding the industrial atmosphere of the South Houston district in New York City with its abundance of glass and light-coloured bricks.
In line with Amsterdam's mission to become the first 100% circular city in the world by 2050, OZ Architects intends to add sustainable value to Oostenburg with the De Vijzel building. The reuse of materials is an important condition of the mission to make Oostenburg sustainable.
"This is where StoneCycling's nougat raw brick, which has a soft yellow tone with a hint of warm pink, has been used for the façade cladding of De Vijzel. These bricks are made from construction and demolition waste, whereby a total of 28,952kg of waste has been upcycled for the De Vijzel building," says Massa.
He notes that the stones are processed on the cleat, which saves on the amount of façade material and produces a non-standard façade appearance. The building is also energy-neutral, as solar panels were installed on the roof.
"The apartments enjoy natural light with floor-to-ceiling windows and each has a façade that can be opened over to full height and width via large patio doors. All units in De Vijzel are directly connected to the lush courtyard and the exclusive apartments are delivered turnkey for residents to move in directly."
Save by subscribing to us for your print and/or digital copy.
P/S: The Edge is also available on Apple's AppStore and Androids' Google Play.