A home design that was relevant and favourable 10 years ago may not be the "in" design today. As time passes, consumers' needs and tastes change and this shapes the design of homes over the years.
For instance, 30 years back, vertical living was an uncommon concept in Malaysia — unlike today when land is scarce and supply of such homes is abundant in city centres. Decades ago, all we wanted was a roof over our heads, but today there are greater demands for lifestyle elements.
Malaysian Institute of Architects president Ezumi Harzani Ismail shares with EdgeProp.my that housing design has evolved over time.
In recent times, issues of housing affordability have been raised due to the rising cost of living and stringent lending policies, among others. "There is a mismatch between the income of the urban middle class and the cost of housing, making it almost impossible for a majority of the Below 40 (B40) income group to afford homes in urban areas," he says, adding that this has influenced the design of houses as well.
Ezumi notes there are noticeable differences in houses built over different time periods.
"The modern houses built in the 70s have a minimalist design with basic geometrical forms shaping the buildings. Internally, there were clear boundaries between kitchen, dining and living rooms. The trend continued until the mid-80s. Towards the late 80s, homeowners and designers in Malaysia placed more consideration to tropical climate design, with more openings and airy spaces, as well as pitch roofs with large overhang. Internally, there was also a blurring of the boundaries between kitchen and dining spaces, sometimes with a combination of dining and living areas," he says.
The tropical design trend became more popular from the early 90s, he adds, which later led to an adoption of Balinese-style architecture.
The design evolution also reflects the wealth of the general public and their ability to buy bigger and better homes.
"Today, owning a big house has become the 'dream' of many, while the reality is that the houses in urban areas are getting smaller. Are we then going back to the 70s minimalist design for these smaller units?" Ezumi notes, adding that developers are coming up with smaller homes to keep prices affordable in the current environment. Smaller residential units are now compensated with lifestyle and support facilities such as club houses, gymnasium, retail outlets and public transportation.
"It is important to note that space and design standards are still average — it is hard to find a balance between providing adequate space and creating economic value for housing. When budget is the main consideration, value for money is very important.
"Developers must always take into account the functionality, comfort and habitability of the homes. Most importantly, affordable housing must be created by using the right building materials and methods without compromising on quality," he stresses.
Similarly, interior design trends have also evolved as society progresses.
"Preferences and tastes change. For instance, we see a demand from the younger generation for spaces more attuned with their fast-paced internet-driven life. Spaces have evolved from mere fulfilment of utilitarian basics to styles demanded by this young generation on the go," Chris Yap, president of the Malaysian Institute of Interior Designers, shares.
However, some design concepts are timeless, he says, citing period trends such as Victorian, Bohemian, Art Deco and, to a certain extent, Renaissance. They do, however, get adapted and styled to be more contemporary.
"Another timeless interior design approach would be minimalist simplicity, much to the fancy of the younger generations who buy ready-made furniture pieces to fit into their habitat for convenience and practicality," says Yap.
He emphasises that in this day and age, however, the interior design of homes very much depends on individual's taste, influence and lifestyle.
"The uncluttered look still holds its ground, with collector pieces dotting the spaces, for those who can afford them. Simple highlights with feature walls are also prominent, with contemporary furniture and fixtures completing the interior assembly of spaces. The use of innovative products available today also helps to expound the fact that people are focusing more on their living spaces and they want to individualise these spaces as best they can," Yap shares.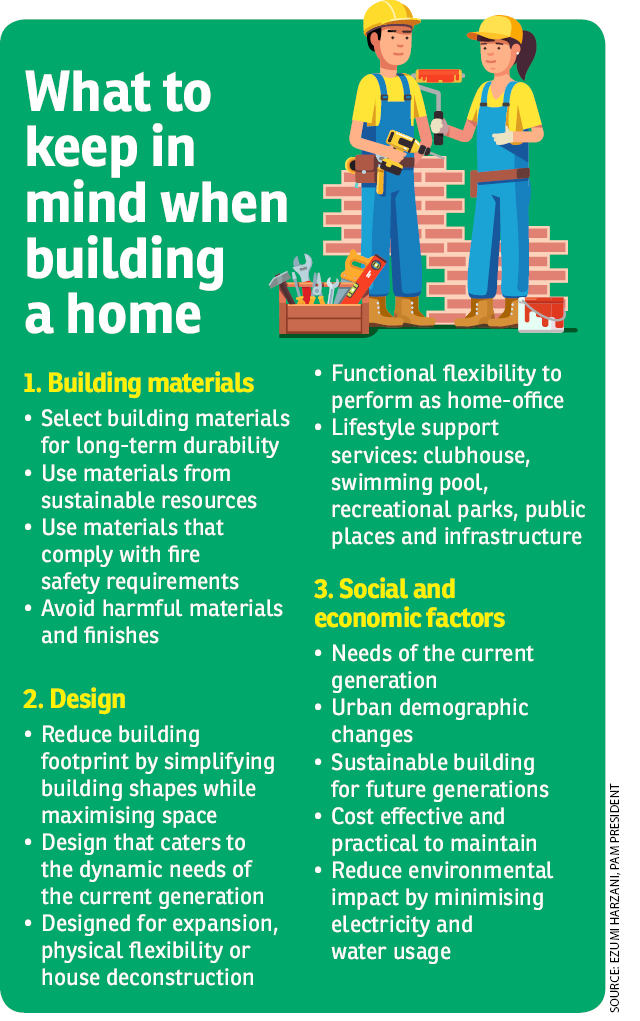 According to Ezumi, today's generation of Malaysian homebuyers, particularly the millennials, are keen on smart homes as they are attracted to technological innovations such as mobile security systems.
"They also want 'green homes' to counter the effects of the rising cost of living. It will not only promote better use of resources and a greener environment but also help reduce electricity bills. Homes with energy-efficient features also help promote healthier living," he shares.
How homebuyers can benefit
Both Ezumi and Yap agree that a well-designed home benefits the homeowner in the long run.
"A well-designed home, in my opinion, equates to a happy and contented end-user. It gives its inhabitants confidence, a sense of belonging and a secure refuge to retreat to after challenging workdays or situations in life," says Yap.
A well-designed home is also an investment that pays for itself over a building's lifetime, offers Ezumi. "For the developer, it would be easier to sell a well-designed property and at a good price, thus providing better return on investment," he adds.
Similarly, on a more macroeconomic scale, a well-designed neighbourhood will improve the community's quality of living.
This story first appeared in EdgeProp.my pullout on March 23, 2018. Download EdgeProp.my pullout here for free.
Take the Lafarge-EdgeProp MYHOME survey
What would the design of your ideal home be like? Is it one with a big kitchen so you can whip up a good meal for friends and family, or one with a large bedroom where you can lounge around and watch movies?
Have your say now on what your ideal home would be like by taking part in the Lafarge-EdgeProp MYHOME survey here. The results will form the basis of the design of homes to be built by S P Setia Bhd. Hurry, because the survey ends on March 31!