This article first appeared in City & Country, The Edge Malaysia Weekly on September 26, 2022 - October 2, 2022
Despite the drizzle when we visited that Thursday evening, ­REXKL was drenched in coloured light and the atmosphere was lively with a mix of young and mature patrons thronging the event space.
REXKL offers a theatre; spaces for exhibitions, performances and screenings; a BookXcess bookshop; as well as retail and F&B outlets. It has gained popularity since opening and helped to rejuvenate downtown Kuala Lumpur. In fact, it is among a number of emerging adaptive reuse projects that are reviving the old parts of the city.
In a bid to create dialogue, the Malaysia Australia Business Council (MABC) organised a presentation and panel session on Sept 15 titled "Adaptive Reuse in Downtown KL" with industry practitioners to discuss how they approach adaptive reuse in the urban landscape.
The panel of speakers comprised PNB Merdeka Ventures Sdn Bhd CEO Tengku Datuk Ab Aziz Tengku Mahmud, labDNA director Nani Kahar, Ormond Group head of brand Loo Jia-Wei and Urban Agenda Design director Shin Tseng, and the moderator was Think City director of urban mechanics Daniel Lim. KL mayor Datuk Seri Mahadi Che Ngah graced the event and gave the keynote speech.
During the panel discussion, the group highlighted the challenges in adaptive reuse developments, mainly in working with the existing typography.
Ormond Group's Loo shared her experience. "For The Chow Kit — An Ormond Hotel, we had to work with the original structure of the building. Originally, it didn't come with a pool, gym or other facilities that one would typically find in a four- or five-star hotel. Our site is rather tight; so, we needed to change the façade, and we had to do it with prefabricated glass-fibre reinforced concrete (GFRC) panels mounted onto the existing façade.
"Ultimately, it is about reconfiguring, and redefining the spaces for the guests. There is also the matter of cost efficiency of running these adaptive reuse projects. We worked with an entire team of local consultants, local materials, local designers, local furniture fabricators for us to manage costs that are palatable for us to run our businesses," she said.
Urban Agenda Design's Shin also highlighted the projects' contribution to the surrounding communities.
labDNA's Nani said: "It is also about ensuring that the communities are not being sidelined and are part of the agenda as well. Not many [members of the communities] would have access to bank loans, so it is a challenge."
PNB's Ab Aziz noted: "It does take a bit of time to study, understand and come to an agreement with the communities, as these projects would affect their livelihoods and the way [they run] their businesses. The key is to introduce solid, progressive and continuous programmes for the communities.
"As Merdeka 118 is a convergence of the old and new, our goal is to preserve its heritage value, to drive growth and prosperity and to build closer ties with the communities. We want to ensure that the existing buildings meet the communities' needs, to bring the historic buildings back to life while being in the forefront of life and culture."
The programmes introduced in the adaptive reuse projects must be current, inspired and appealing for all generations, especially for the ever-changing entertainment trends of Gen Z and Gen Y, said moderator Lim.
labDNA's Nani highlighted key elements to consider such as regular engagements, which involve the multi-sensory experience of re-architecture; enhanced observation; building memories (through layered history and cultures); place attachment to create a sense of belonging; and place loyalty. "There has to be a creative, cultural ecosystem, which involves social spaces, curation and programmes, talent platforms and community access," she said.
The speakers concluded that it was a balancing act between achieving a level of gentrification, preserving the original forms of the structures, and maintaining respective business models.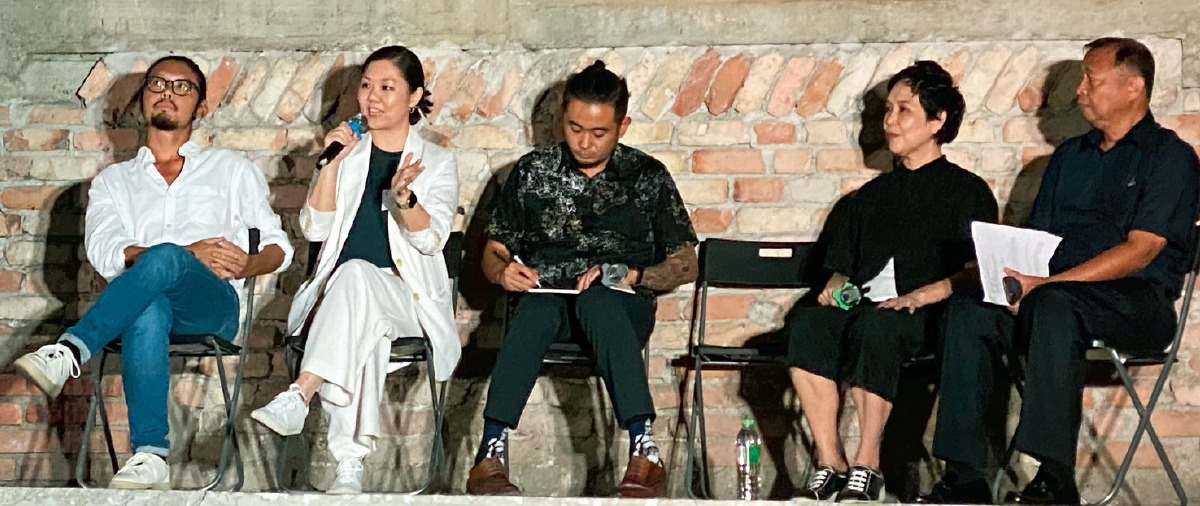 From left: Shin, Loo, Lim, Nani and Ab Aziz during the panel discussion at REXKL (Photo by Hannah Rafee/The Edge)
Plans for the future
During his keynote speech, city mayor Mahadi pointed to the master plans for the city. "Kuala Lumpur City Hall has developed several master plans and blueprints to ensure that we are well prepared to develop into a world-class, liveable, sustainable, resilient and inclusive city for all.
"The plans are: New Development Plan for Kuala Lumpur 2040; Kuala Lumpur Low Carbon Society Blueprint 2030; Kuala Lumpur Pedestrian and Cycling Master Plan 2030; Kuala Lumpur Climate Action Plan 2050; and Kuala Lumpur Creative and Cultural District Strategic Master Plan 2019," he said.
"To achieve a balanced and sustainable city, we started with addressing the effects of climate change. Our low-carbon journey commenced with an in-house Carbon Management Plan for energy, followed by the Kuala Lumpur Low Carbon Society Blueprint 2030. Our latest citywide project is the Kuala Lumpur Climate Action Plan 2050.
"Rapid urbanisation and demographic shifts have amplified the need to have a truly clear planning system for the city. For that purpose, the Kuala Lumpur Structure Plan 2040 was prepared in March 2020, with a vision of developing Kuala Lumpur into a 'City for All'."
According to Mahadi, the Kuala Lumpur Structure Plan 2040 aims to balance economic sustainability with the creation of inclusive communities. At the same time, the focus is on greening and beautifying the city, adopting a low-carbon approach, building an efficient mobility system, as well as undertaking integrated land management.
"As part of a larger effort to create a world-class and sustainable city, downtown Kuala Lumpur has been the focus of a number of significant improvement and rejuvenation projects in recent years. This includes the River of Life Project — an ambitious initiative to reconnect the river, the city and its people; plans to create a central park (Taman Tugu); and efforts to restore national monuments such as Muzium Negara, Stadium Negara and Bangunan Sultan Abdul Samad.
"While these efforts have contributed to the improved liveability and sustainability of the city, there is a fundamental need to address the fact that downtown Kuala Lumpur has become a transitional space with the need for a strong economic foundation."
The city's future as a gateway to the rest of Malaysia lies in repurposing older districts. "The emergence of art and cultural districts elsewhere as a response to inner city decline is of particular relevance for downtown Kuala Lumpur. As the city's historic core, downtown Kuala Lumpur has a wide range of arts, tangible and intangible cultural heritage. Many of them need stronger synergies," he said.
According to Kuala Lumpur City Hall, through the Kuala Lumpur Creative and Culture District Strategic Master Plan 2019, downtown KL will be regenerated into a local cultural and creative precinct. The area surrounding Masjid Jamek Sultan Abdul Samad and PNB 118 Tower are part of the old areas in KL and have the potential to be regenerated into a new creative industries hub and an international civic district.
"The shophouses with historical value in the area, near Kuala Lumpur Central Market, will be protected, especially their original architecture," Mahadi said, adding that these buildings can be used for new activities to attract tourists and entrepreneurs.
"Indeed, these initiatives offer job opportunities and new venues for creative groups and artists, and young professionals to express their creativity."
Mahadi pointed to the example of The Row on Jalan Doraisamy, off Jalan Sultan Ismail. The area, which could have been left abandoned and derelict, has seen its 22 shophouses commercially repurposed to attract both locals and tourists alike.
"It is imperative to ensure the city remains sustainable, resilient and liveable for all of the people in Kuala Lumpur. Besides our net zero target for a healthier, resilient, low-carbon lifestyle, we also have to make sure the city remains vibrant and lively for the people to live in. With these comprehensive efforts, Kuala Lumpur is well on track to achieving this vision," he said.
Save by subscribing to us for your print and/or digital copy.
P/S: The Edge is also available on Apple's AppStore and Androids' Google Play.