This article first appeared in Forum, The Edge Malaysia Weekly on December 14, 2020 - December 20, 2020
Inspiring the next generation of female technology talent is vital in Malaysia. Digital technologies will be a critical foundation as the country moves towards developed-nation status, as connected technologies drive forward economic opportunity.
Malaysia's digital economy grew 9% annually in value-added terms between 2010 and 2016, higher than overall GDP growth. It is estimated the digital economy now contributes as much as one-fifth of GDP. If the nation is to maintain this growth, and catalyse plans to become the region's digital economy hub, ensuring the right talent access is vital. We must leverage the full value of our workforce opportunity.
In order to understand how to enhance this opportunity, Boston Consulting Group (BCG) partnered with Singapore's Infocomm Media Development Authority (IMDA) and SG Women in Tech to assess the landscape of women in technology. This seminal study — Boosting Women in Technology — surveyed 1,650 women holding technology roles across Southeast Asia, complemented by interviews with key female leaders in tech. The findings offer an encouraging picture, and route map to wider success in engaging women in technology.
Foundations of diversity
Education and engagement are two pillars of a strong female technology workforce. Women make up 56% of those in higher education across all majors in Southeast Asia, echoing the international norm. The share falls to 39% in technology-based degrees; however, that is 4% higher than the global average (see chart 1).
When it comes to workforce participation, that education often fails to translate fully into job roles. Thirty-eight per cent of the total workforce in Southeast Asia is female. That falls to 32% of the technology workforce, though higher than Australia and the UK. In Malaysia, women make up 35% of the technology workforce.
The imperative to boost female engagement is clear. BCG research shows that gender diversity can make companies more innovative and agile, improving business performance. Those companies in which women account for more than 20% of the management team have about 10% higher innovation revenues than male-dominated peers.
Increasing female engagement unlocks further benefits through diversity — driving improvements in customer service and generating a more positive brand image. This also positions an enterprise as a more attractive employer for diverse digital talent, creating a virtuous circle of benefits for the company.
Moments of support
Diversity offers a remarkable opportunity, and one that can be engaged through support during three key moments of truth (see chart 2).
Inspiring women to pursue a technology degree in higher education is a critical first step towards a long-term technology career. Fifty-six per cent of women across the region cited personal interest as the driver of this choice.
The second moment of truth comes in crucial first job selection. This is influenced both by personal interest and a natural pathway from education. Companies that offer a rewarding work-life balance are particularly attractive in Malaysia. Perceived difficulties or limits to a technology career path can discourage women at this stage.
The third inflection point comes from moments of continuation in a long-term technology career. These considerations are heavily influenced by compensation and benefits, career advancement opportunities and work-life balance. Financial rewards play an increasingly influential role through work lifecycles in Malaysia.
Each of these three moments of intervention offers an opportunity to support better engagement with women in technology. An appropriate end-to-end approach that spans these three critical moments of truth can help build a more positive ecosystem, and contribute to Malaysia's ultimate goals as a digital nation.
Building a support framework
Government, companies, educational institutions and women themselves are all fundamental to deepening female participation in technology.
Structured and thoughtful diversity programmes are a valuable route to encourage female talent. Eighty to ninety per cent of respondents who were provided with these programmes noted that they had personally benefited, yet about one-third of companies do not offer them yet.
Promoting women leadership in technology is also essential. This not only boosts visibility, inspiring the next generation, but provides a route towards the many benefits of leadership diversity in your business. The importance of role models and mentoring was particularly pronounced in Malaysia.
"When you look at improving gender diversity in your company, you need to start from the top," says Anika Grant, global director of HR at Dyson. "Senior women leaders help change the culture, the tone, the type of decision-making and the way communication is done. That creates a cycle that helps attract women across different levels of the company going forward."
Companies should look beyond traditional roles to build out talent pipelines. Onboarding new talent through non-traditional pathways will be particularly valuable in an evolving industry in which lifelong learning underpins future-ready talent.
As was noted, government and schools offer a valuable foundation to unlocking opportunity for women in technology. It is important to start technology in a curriculum as early as possible. Encouraging female educators also helps provide a more inspirational and supportive attitude for young women planning future careers.
Establishing industry partnerships is another step the government can take. These help build strong women's networks, which are an important part of the mentorship and inspiration noted as key drivers in Malaysia.
Government also has a fundamental obligation to build a supportive working ecosystem through appropriate regulatory guidelines. These include legislation around structural workplace benefits such as maternity and paternity leave, nursing rooms and childcare support. Promoting community awareness around gender diversity and opportunity also represents a valuable opportunity.
With these structures in place, women should be empowered to drive forward change. This should include promotion of internal company initiatives, and at the same time building out and accessing external networks and opportunities.
Women within the technology workforce should seek to inspire and boost other women entering the industry. Find your own successful balance in navigating this landscape in order to better empower you to help others, and leverage that status to promote and support the women around you.
"We need to champion women by encouraging them to take up responsibilities that help them progress forward and advocate them for promotions when the moment arises," says Pauline Wray, head of Asia for Expand Research and global lead for BCG's FinTech Control Tower.
Men within the workforce should be encouraged as allies. This is not just a women's issue, but a case of equal opportunity that can drive shared success. Millennial workers show encouraging signs of acknowledging this shared responsibility.
Gender diversity is a rare issue where the solutions benefit everyone. It can boost business performance, unlock valuable new talent and provide equal opportunity for women in the workforce. That is not just an opportunity for a more productive Malaysia but an avenue to a fairer nation that provides women with the fair shot they deserve.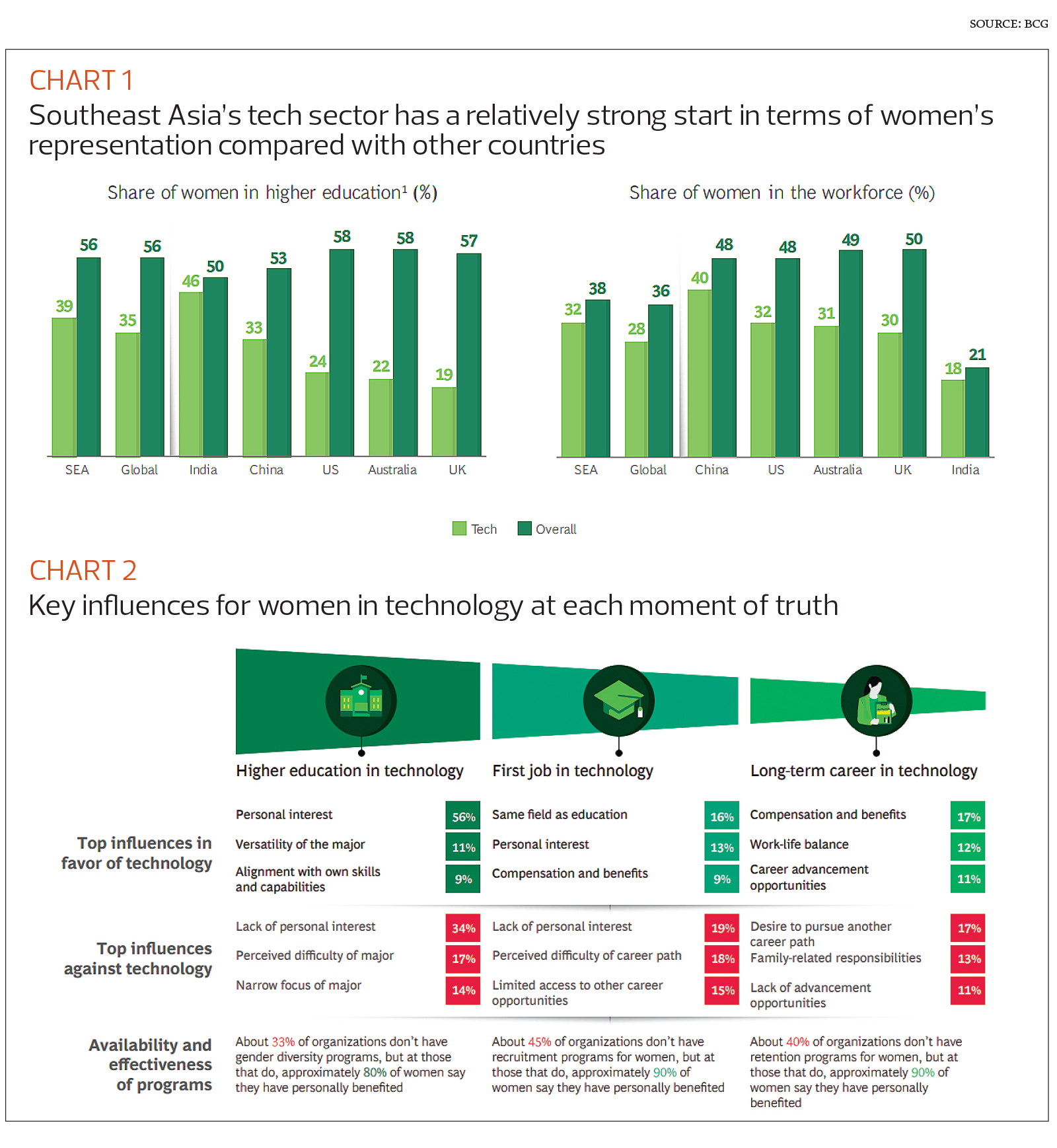 ---
Vaishali Rastogi is managing director and senior partner at Boston Consulting Group. She is also the firm's global leader for the Technology, Media and Telecommunications practice.
Save by subscribing to us for your print and/or digital copy.
P/S: The Edge is also available on Apple's AppStore and Androids' Google Play.