This article first appeared in City & Country, The Edge Malaysia Weekly on August 22, 2022 - August 28, 2022

While it is important to focus on maintenance, tenant satisfaction is equally crucial in the making of a successful office tower, says Tower REIT CEO Noorbaizura Hermeyney. Tower REIT owns Guoco Tower in Bukit Damansara, Kuala Lumpur.
"We want to continue to be sought after by tenants despite the age of the building and having more new office towers coming up [in the area]. We believe good property management has helped us to position the tower as the office building of choice. We put everything in order, while managing things proactively," she says.
"We want to meet the satisfaction of the tenants, to make sure that they are happy to stay here … it is about both the hardware and software. Rates will be competitive, but tenants always want to stay for the long term and that long-term factor is about how comfortable and satisfied they are with the building."
Guoco Tower is the Gold winner in the Below 10 years Single-owned Office in a Mixed Strata category.
Part of the RM2.5 billion Damansara City development, the 19-storey premium-grade office tower is Green Building Index (GBI)-certified, Gold Leed 2009 for Core & Shell development-accredited and is a designated MSC Malaysia Cybercentre.
Its net lettable area is 236,500 sq ft, with each floor contributing about 14,000 sq ft. The anchor tenants include British American Tobacco Malaysia, Dentsu Holdings Malaysia Sdn Bhd, AECOM Perunding Sdn Bhd and GuocoLand Malaysia Bhd.
Henry Butcher Malaysia (Mont Kiara) Sdn Bhd (HBMK) was appointed the property manager on Jan 1 last year.
Constant communication
Noorbaizura says the tower is occupied by several multinational corporations (MNC), so engagement in terms of service is important. It is where the management gets feedback and understands the improvements needed for the building.
"It is critical for us to get feedback and understand their situation … MNC tenants have certain requirements such as ESG (environmental, social and governance) compliance, health and so on. These things are important and we have to make sure that our building management will be able to handle it," she adds.
"Tenant retention is important as the building is under a REIT. We make sure that we plan things ahead and are proactive. We are also benchmarking ourselves against other office towers. It is not for competition's sake but we want to enhance ourselves. We look at what systems other buildings have and see if they are applicable to us."
Guoco Tower is currently 86.9% occupied, with most tenants having been there since its opening in 2015.
HBMK associate director Paris Tian notes that tenant satisfaction is about understanding the tenants' needs and ensuring that they are well taken care of. "We conduct regular monthly meetings with our anchor tenants to hear from them and, from there, we improve. We believe that constant communication is important and our key to success, besides strong teamwork."
Property management
At Guoco Tower, there are 14 planned preventive maintenance conducted in-house on a regular basis. Its outsourced maintenance, meanwhile, include the lift system, fire-fighting system, air-conditioning and mechanical ventilation system, pest control and chiller system.
Building manager Abdul Shahnaz Abdul Halim notes that it is about proper control and governance while keeping the management team updated on new systems.
"In order to have the best maintenance results, we need to have proper control and governance … We do have our service providers assisting us in terms of preventive maintenance but we need to have some sort of control. The way we do it here is that while our service providers have their checklists, our team also has its own checklist to countercheck to make sure that everything is properly done," he says.
"We won't rely on the service providers solely. Our team needs to know how things are done. Even though the service providers have more knowledge, the team still needs to know the basic foundation of the stuff going on."
Tian reiterates that it is about checks and balances. "For example, when the lift service provider tells us that we need to make some replacements, Shahnaz will go down the site itself to check and confirm whether there is a need to replace … We will ask for more supporting documents from the service provider to confirm the necessity of the replacement. We will do all the due diligence as well as checks and balances."
Abdul Shahnaz reckons that there are challenges in maintaining Malaysia Digital Status (formerly known as MSC-status) and green-certified building, as it involves a "complex system".
"Some criteria associated with these statuses are difficult to manage and maintain because the [whole] system is complex, and it is not easy to ensure that the system is always in ready mode. For example, we have a building control system that controls and automates our air-conditioning system. It involves a lot of electronic systems and programming works. These are very technical and complex and not straightforward for us to maintain them," he explains.
"We overcome this problem by doing our own research and maintaining a close relationship with our service providers to understand — better and correctly — the system itself. From there, it helps us to troubleshoot the system on our own. We are not experts but we need to have the basic foundation to maintain these systems, especially those electronic-related ones."
Abdul Shahnaz agrees that consistent and proper communication is important in property management. It ensures strong teamwork between Tower REIT and HBMK, as well as a good relationship with the tenants. "We consistently communicate with the landlord. We build rapport with our tenants and get their feedback to make sure the building meets their requirements."
Indoor air quality (IAQ) has been especially important with the advent of Covid-19. Tian notes that IAQ maintenance complies with the Ministry of Health's guidelines to decrease the infection rate.
"We did a gap analysis and we try to close the gap to ensure that the IAQ at Guoco Tower is maintained at a tip-top standard," she says.
On the highest floor is a fresh air fan that brings cool air into the building, thus minimising the cost of keeping the temperature at an optimal level.
Going forward
Abdul Shahnaz hopes Guoco Tower will continue to be one of the best office towers in the Klang Valley, with tenants getting the best service experience. While it is important to keep up with technology to ensure that the systems are always updated, crisis management is also crucial, he emphasises. "When we manage a building, the main thing is how we react when there is a crisis … Most importantly, everyone in the team knows their role and what to do."
Noorbaizura adds that Tower REIT does not want to rest on its laurels. Guoco Tower must continue to be sought after.
"The location itself is not enough, because there is a lot of competition around … Benchmarking is important and I think we are at a pretty good stage now … There is always room to improve and I believe in benchmarking ourselves against competitors and market standard, or we will never improve. We even talk to agents, who will give feedback on the offerings of other office towers. Competition will be always there, so we have to keep on improving ourselves."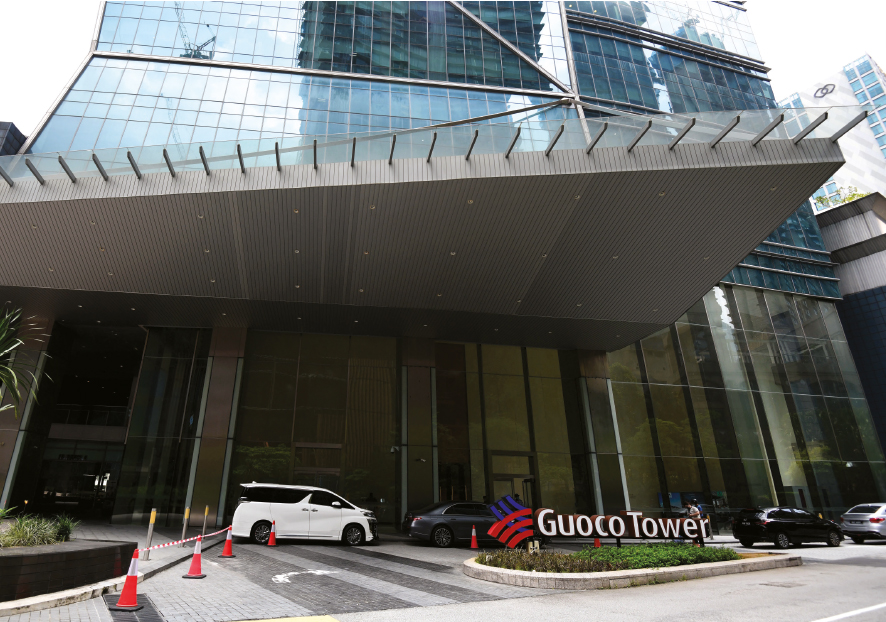 The anchor tenants of Guoco Tower include British American Tobacco Malaysia, Dentsu Holdings Malaysia, AECOM Perunding and GuocoLand Malaysia (Picture by Patrick Goh/The Edge)
Save by subscribing to us for your print and/or digital copy.
P/S: The Edge is also available on Apple's AppStore and Androids' Google Play.