This article first appeared in The Edge Malaysia Weekly on February 25, 2019 - March 3, 2019
Despite Malaysia not having met tourist arrival targets for five consecutive years, the hotel market continues to grow. According to the National Property Information Centre (Napic), the number of hotel rooms (all-star rating) increased 28.2%, or 54,229, to 246,564 from 2013 to 2017.
In the Klang Valley (Kuala Lumpur and Selangor), the past five years have seen more than 22% growth — the supply of hotel rooms (all-star rating) rose from 48,783 in 2013 to 59,707 in 2017.
Napic's leisure property stock table shows that there were 40,559 rooms (in 224 hotels) in Kuala Lumpur and 21,371 rooms (in 165 hotels) in Selangor, as at 3Q2018
Though the Klang Valley has seen slower growth in the number of hotel rooms compared with the national level, most of the country's high-end and premium hotels are within the Klang Valley.
The newer hotels in the Klang Valley include premium hotel brands such as Four Seasons Place, W Kuala Lumpur, St Regis and Sofitel. Mid-range hotels include Hilton Garden Inn, Citizen M Bukit Bintang, Travelodge Bukit Bintang and Travelodge Central Market.
Zerin Properties founder and CEO Previndran Singhe says most of the new hotel rooms in Kuala Lumpur and Selangor fall into the five-star category. There are 12,160 five-star rooms in Kuala Lumpur, or 30% of the total, and 6,637, or 31%, in Selangor.
Whether there is an oversupply of hotel rooms in Kuala Lumpur and Selangor would depend on the state of the economy and how well Malaysia's reputation as one of the best tourist destinations in the world is maintained, says Landserve Sdn Bhd managing director Chen King Hoaw.
The country has missed its arrival targets since 2013, and in September, the government revised the forecast figures for 2018 to 2020 to more realistic levels.
The target for 2018 was reduced to 26.4 million from 33.1 million, which will lower estimated tourism receipts to RM84.9 million (from RM134 million).
Knight Frank Malaysia managing director Sarkunan Subramaniam observes that Malaysia is still one of Asia's most visited countries, despite the falling number of visitors. Most of the tourists are from Southeast Asia, he adds.
In 1H2018, he notes, arrivals and tourism receipts reportedly achieved 48.1% and 45.8% respectively, of the revised targets, with 12.71 million visitors spending RM38.92 billion.
"[In Southeast Asia] Singapore, ranked at the top, accounted for 40.9% of total tourist arrivals in January to June 2018, followed by Indonesia with a 12.7% share. Most tourists who visit Malaysia are from Southeast Asia, including Singapore, Indonesia, Thailand and Brunei," Sarkunan says.
"On a year-on-year basis, there was an increase of more than 30% in the number of arrivals from China, South Korea and Vietnam. Among the top 10 countries, only Singapore and Brunei showed negative growth, of 17.5% and 19.6% respectively in the number of tourists."
Meanwhile, Chen notes that the latest Tourism Malaysia data show that arrivals in 9M2018 dropped 0.3% year on year to 19.39 million.
Previndran says major markets such as Singapore and Brunei led the downward trend while the number of visitors from Thailand, Indonesia,
Vietnam, China, South Korea, Taiwan and India saw strong growth.
"In tandem with the downward trend in arrivals, a minimal growth of expenditure was recorded — 0.5% to RM61.85 billion. Traditional markets such as Singapore, China and Indonesia were the main contributors in the first eight months. Expenditure on accommodation grew 0.9% to RM16.51 billion," he adds.
With the revision of last year's numbers, the targets for this year have also been cut, to 28.1 million arrivals from the earlier forecast of 34.5 million, and RM92.2 billion in tourism receipts (earlier target: RM151 billion).
The numbers for next year have been cut 17% to 30 million arrivals (earlier target: 36 million) and RM100 billion in receipts (earlier target: RM168 billion).
Known for its natural attractions and diverse cultural heritage, Malaysia attracts tourists to its islands and beaches as well as for sightseeing. Sarkunan says most tourists — 54.7% — came for holidays, 20.6% were visiting friends and relatives and 12.7% came to shop. Less than 1% chose Malaysia for a visa run or honeymoon in 1H2018.
According to Sarkunan, major activities were sightseeing (98.5%), shopping (95.4%) and visiting islands and beaches (48.7%).
Other catalysts that would contribute to the growth of tourist arrivals, he adds, include business tourism, meetings, incentives, conferences and exhibitions (MICE) as well as medical tourism.
Previndran suggests that the creation of quality tourism products focusing on different sectors, such as ecotourism, cultural heritage, event/concert tourism, shopping and leisure tourism, could attract more visitors.
"Intensive promotions should be organised by the government and airlines, plus other incentives, such as simplifying visa rules, the extension of e-visas to more countries and the abolition of the tourism tax," he adds.
For now, industry players do not see substantial rate cuts for hotel rooms in the Klang Valley. Even though hotels at specific locations might face short-term pressure on occupancy levels, they do not expect to see significant changes to room rates.
Chen says Trivago's Hotel Price Index (HPI) shows that the average room rate in Kuala Lumpur trended downwards by 6.3% last year. Trivago's HPI shows that the average room rate fell from US$63 in January to US$59 in December last year.
However, Sarkunan notes that the findings of a survey conducted by the Malaysian Institute of Economic Research reveals that the majority of hoteliers are likely to maintain their room rates, and he does not anticipate significant changes to average room rates this year.
For the five-star hotel category in Kuala Lumpur, Previndran observes that there have been no rate cuts. But he reckons that, as many such hotels are located in Bukit Bintang and KLCC in Kuala Lumpur, they may face some short-term pressure on occupancy levels and rates.
"International branded four and five-star hotels, especially the pioneer brands in prime tourism spots, should perform well due to the anticipated growth of the local tourism sector as well as booming niche tourism, which draws discerning tourists for longer stays," he adds.
"The average occupancy rates for Kuala Lumpur and Selangor hotels from January to June last year were 60.7% and 54.5% respectively, a 4.8% year-on-year decline (2017: 65.6%) and a drop of 5.3% (2017: 59.8%) respectively."
Chen notes that the recent trend is for hotels to offer 1 to 3-bedroom serviced apartments, in addition to hotel rooms.
"This is to cater for a wider range of tourists, from business travellers to families. Their room rates are also competitive," he adds.
"Airbnb and similar platforms are impacting certain segments of the hotel industry. Perhaps, when there are enough people looking for quality lodging or accommodation, the impact is less felt. However, should the number of tourist arrivals drop, coupled with a rise in the number of hotel rooms and serviced apartments in popular locations, the impact can be more obvious."
Industry players expect the growing demand for home-share schemes and declining tourist arrivals to exert pressure on occupancy and room rates, especially for budget and three-star hotels. Sarkunan says this is because both share a similar target market. Hence, he does not see a significant impact from the growing Airbnb operations on upmarket and luxury hotels.
"Travellers with higher spending power prefer to enjoy the hospitality and amenities provided by hotels. Airbnb and similar home-share platforms target travellers who are especially price-sensitive to accommodation and those seeking alternative options for larger travel groups and families on a budget," he explains.
Previndran sees the demand for home-share schemes coming mainly from millennials. However, he does not see these schemes as a threat to hotels as there are always travellers who prefer full-service hotels.
He reckons that home-share schemes need to be regulated, which would ensure the health of the industry and create fair opportunities for all players, while safeguarding the public interest.
"Home-share schemes must also be taxed in order to create a more level playing field. Tax rates should be fixed at a reasonable range, depending on the revenue generated and type of property, and the money must be utilised to enhance the local hospitality and tourism industry," Previndran says.
He expects more lifestyle and themed hotels to be developed moving forward, to adapt to and cater for millennials' travel needs. Hoteliers need to be more tech savvy to develop user-friendly mobile apps for travellers' convenience and offer unique and distinctive experiences.
Direct flights into Malaysia, he adds, would help boost tourist arrivals as well. More hop flights — routes that involve more than two flights points — are also needed to improve the air connectivity that would lead to a substantial increase in inbound tourist arrivals. ­
"Having said that, more needs to be done to attract a higher number of tourists and to encourage longer stays, so everyone gets a piece of the pie. It is high time for hotels, especially homegrown brands, to revamp their quality of service to meet the needs and preferences of the guest in order to stay relevant and be at the top of their game," Previndran adds.
Sarkunan is cautiously optimistic on the outlook for the tourism industry in Malaysia in the mid to long term as Kuala Lumpur is set to welcome more international and regional hotel brands and operators amid a resilient tourism market.
He expects to see the Klang Valley debuting more premium hotel brands such as So Sofitel Hotel and Jumeirah at Oxley Towers KLCC, Kempinski Hotel at 8 Conlay, Park Hyatt Kuala Lumpur at PNB 118; Fairmont Kuala Lumpur and Crowne Plaza Hotel.
Sarkunan believes Malaysia remains an attractive destination for various reasons, such as price competitiveness, good air connectivity and natural resources. The country is also set to capitalise on the medical tourism sector that has shown impressive growth in recent years.
"Public and private stakeholders continue to initiate tourism activities to boost foreign arrivals, which may include promoting the country as a wedding destination as well as targeting high-income tourists," he says.
"The local tourism market is also expected to thrive. A few states and local and municipal councils have come up with master plans for tourism, such as the Visit Sarawak campaign, Visit Melaka Year and Visit Sepang Year 2020."
Chen says one major challenge for the industry — apart from the keen competition — is getting the right people with the right experience and skillsets to deliver up to customers' expectations.
"Reputation is key to hotel management, and in order to achieve that, you need to have the right people in place. The other challenge is the cost to maintain the hotel, which can only increase over time," he adds.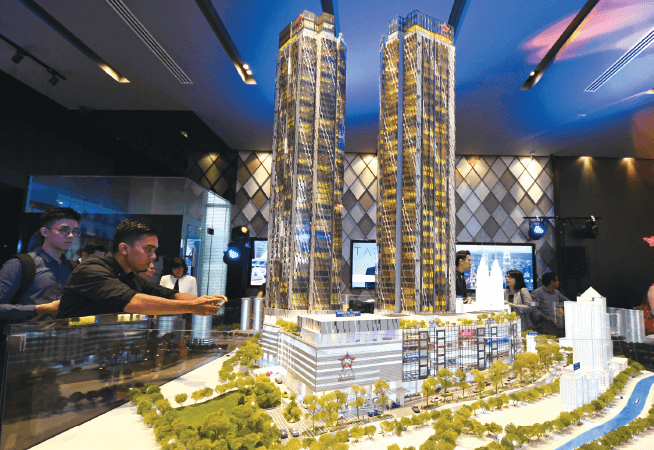 Ascott Star is one of the latest hotel projects that offer buy and leaseback schemes
In recent years, the hospitality industry has seen a growing number of projects that offer buy and leaseback schemes, including Shama Medini and Citadines Medini in Johor; The RuMa Hotel, Tribeca Serviced Suites, Dorsett Bukit Bintang, Goldmen Suites and Ascott Star in Kuala Lumpur as well as The Mercure Hotel in Kota Kinabalu.
Generally, buy and leaseback schemes offer a lucrative yield of 5% or more. Landserve Sdn Bhd managing director Chen King Hoaw says the returns on investing in hotels depend largely on the location, management and the segment the hotel is competing in.
"Should the Malaysian economy, particularly the tourism sector, continue to grow, with rising tourist arrivals as in the other countries in Southeast Asia, we believe well-managed hotels in good locations will continue to attract demand from investors, including those from overseas," he adds.
Citing The RuMa as an example, Knight Frank Malaysia managing director Sarkunan Subramaniam says the development offered 253 hotel suites for leaseback investment with a 10-year leaseback contract. Under the contract, the first five years come with a 6% net yield. For the subsequent five years, returns come through sharing of the net room distributable income.
"The pros of buy and leaseback schemes are the potential capital appreciation when the asset increases in value over the period; guaranteed return model for a certain period of time or profit-sharing scheme; as well as benefits of free stays," he adds.
However, industry players have also warned of the cons of investing in hotel rooms.
Zerin Properties founder and CEO Previndran Singhe lists out three main considerations investors should focus on when it comes to such investments: yield, benefits (such as free stays) and discounts on hotel or apartment rent.
"Investors must be wary of the details in the contracts, particularly the exit mechanisms. Some due diligence is advised in terms of the developer's track record, location of the property, other costs to be borne, such as income tax, maintenance charges and so on," he adds.
Sarkunan also reminds investors of the fees they need to pay, such as property maintenance, sinking fund, property taxes and other costs related to the acquisition of the hotel room.
"They will also have to contribute to the refurbishment cost as and when necessary or applicable. In addition, investors cannot occupy their own units once the property is in a leaseback arrangement," he says.
Save by subscribing to us for your print and/or digital copy.
P/S: The Edge is also available on Apple's AppStore and Androids' Google Play.