This article first appeared in The Edge Malaysia Weekly on June 13, 2022 - June 19, 2022
THE unprecedented financial requirements attached to contractors that want a slice of the Mass Rapid Transit 3 (MRT3) project are likely to have an impact on the highly competitive construction industry where, traditionally, the "know-who" carries bigger weightage than the "know-how". This time around, perhaps the best bidders will win on their own accord as the financial requirements mean that only companies with big balance sheets are able to bid for the main packages.
Among the key conditions that Mass Rapid Transit Corp Sdn Bhd (MRT Corp), the assets owner of MRT3, has put in the tender documents are that interested bidders should be able to fund at least two years of work. They must also have an effective bumiputera participation of at least 30.6% and performed fairly well financially in the last five years.
In relation to the five-year financial performance, MRT Corp stated that individual companies or consortiums should cumulatively have positive earnings before interest, tax, depreciation and amortisation (Ebitda) for the period.
According to analysts, the three main civil work packages alone are likely to come up to just above RM30 billion. This already surpasses MRT Corp's estimates that the entire project — including systems and consultancy — is likely to cost about RM31 billion.
"MRT Corp is taking the view that there would be some cost savings as it is taking the lead role in ensuring the project is completed within time and cost," says a contractor who asked not to be named.
Under MRT3, there are three main civil work packages. CMC301 involves the design, construction and completion of a viaduct guideway, elevated stations, depot and other associated works from Pandan to Jalan Cheras. CMC302 entails the same job as CMC301 but with an additional tunnelling job. The package stretches between Jalan Cheras and Pantai Dalam, and Jalan Kuching to Pandan. CMC303 encompasses a stretch between Pantai Dalam and Jalan Kuching, where most of the tunnelling jobs will be carried out. This is the only civil works package in which MRT Corp allows foreign participation, with the effective equity interest capped at 40%.
MIDF Research estimates that CMC301 will cost RM2.79 billion; CMC302, RM13.94 billion; and CMC303, RM14.29 billion.
Irrespective of the cost, a contractor says, the sheer size of the contract, the bumiputera requirement and five-year track record already eliminate most of the small and medium-sized contractors.
He sees only four local contractors with the balance sheet and track record to carry the jobs. They are Gamuda Bhd, IJM Corp Bhd, YTL Group and, to some extent, Sunway Construction Group Bhd (SunCon).
Except for SunCon, which can count on financial assistance from its parent Sunway Bhd, the other three have strong balance sheets and excess cash to see the big jobs through.
The financial requirements should eliminate the lobby groups that in the past tended to land government jobs even without the relevant track record and balance sheet strength.
"It is synonymous with government-funded projects, where Putrajaya tends to call the shots. It will not be any different for MRT3. But, first, they need to secure a partner among the big players that is prepared to provide some level of financial assistance for their portion of equity. Only after that can they do the lobby work," says the contractor.
The contractor notes that CMC302 covers 27km of overland structure and an underground stretch of only 1.2km.
"For such a short stretch, a tunnel-boring machine may not be worth the investment. There are other options. Thus, apart from Gamuda, others should also be able to bid for it," he says.
CMC303 involves 6km of elevated section and 10km underground. Gamuda is the front runner for the tunnelling works, but other parties cannot be discounted from throwing in a competitive challenge because they have the option to forge partnerships with foreign parties for CMC303.
There are a few China contractors who can put in competitive bids for tunnelling jobs, says an analyst. "Local companies can partner with foreign parties to bid for the tunnelling portion as well," he adds.
The medium-sized construction companies are likely to come under the main contractors. The conditions are less restrictive at the Tier-2 level.
"Tier-2 contractors need not comply with the financial conditions. Like other jobs, they only need to come up with a performance bond if they win any contract," says the contractor.
Another key beneficiary of MRT3 is the property development sector.
Ho Chin Soon Research CEO Ishmael Ho sees developers such as Ekovest Bhd, IJM, UOA Holdings Bhd and EUPE Corp Bhd benefiting from the MRT3 project once the infrastructure is in place.
Ho points out that Ekovest has land banks in the vicinity of the Kampung Puah station.
"IJM's Pantai Sentral Park will benefit from this [Pantai Dalam] station's proposed location. I would not be surprised if, after the public display objection period, the station is fixed within/or adjacent to their land bank.
"Station No 32, the Universiti station, is already a strategic location with its interchange," he says.
He adds that developers like UOA, KL Gateway and EUPE that have projects in the vicinity also stand to benefit from the rail project.
UEM Sunrise Bhd could benefit from the MRT3 project as it has large commercial properties in the Dutamas-Mont Kiara area, where there will be at least two stations.
According to UEM Sunrise, its developments — including Allevia Mont Kiara, Arcoris Mont Kiara and Hyatt House Kuala Lumpur — are located within walking distance of the proposed Mont Kiara station.
In addition to these, the group's Solaris Parq and Publika Shopping Gallery will be near the Dutamas station.
"The proposed MRT3 line will be beneficial to us as it will add value and attractiveness to some of our developments near its stations, not only potentially increasing their appreciation in value but also providing alternative modes of transportation and ease of mobility for residents and the communities," says UEM Sunrise in an email to The Edge.
"As a result, the upcoming MRT3 line could also help incentivise those staying along the line to use public transport."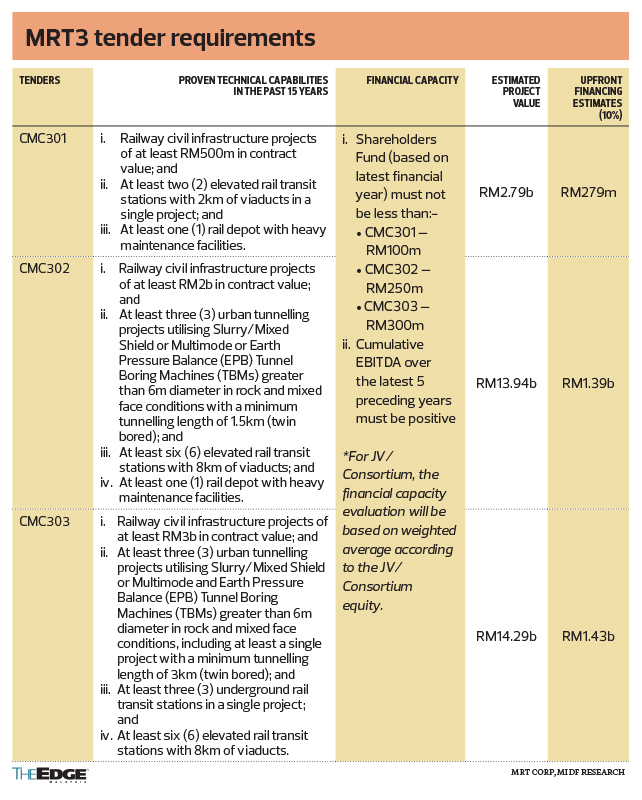 Save by subscribing to us for your print and/or digital copy.
P/S: The Edge is also available on Apple's AppStore and Androids' Google Play.