This article first appeared in City & Country, The Edge Malaysia Weekly on September 24, 2018 - September 30, 2018
Jalan Ampang in Kuala Lumpur has witnessed tremendous development, especially towards the west, thanks to the iconic Petronas Twin Towers and KLCC complex. Built on the site of the former Selangor Turf Club, the 88-storey skyscrapers are the tallest twin towers in the world. Since their completion in 1996, property values in the area have rocketed, making Jalan Ampang one of the most sought-after residential and commercial addresses in the country.
Running parallel to the Klang River, the road stretches eastwards from the junction of Jalan Gereja and Leboh Ampang in Kuala Lumpur to Jalan Taman Putra in Selangor.
Known as Ampang Street when it was built in the early 1880s, it was one of the main arteries in Kuala Lumpur that led to the tin mining village of Ampang.
Here, we focus on the Kuala Lumpur stretch that is also known as Embassy Row.
The iconic Petronas Twin Towers are part of the Kuala Lumpur City Centre (KLCC), which includes several other office towers, a hotel and a shopping mall. Dewan Filharmonik Petronas and the KL Convention Centre are located in a podium block adjoining the shopping mall.
The development of KLCC and Petronas Twin Towers spurred many other new projects there, leading to an increase in property and land prices as the latter became scarcer.
As one of the earliest roads in Kuala Lumpur, Jalan Ampang is dotted with various types of older properties, such as offices, residential units, shoplots, embassies and government buildings. Among them are Wisma Central, Wisma MCA, Hock Choon Supermarket, Rubber Research Institute of Malaysia, Plaza Ampang City and Bangunan Risda.
Several of these buildings have undergone refurbishment and been given a new lease of life. The Intermark mall was formerly known as City Square while Nasi Kandar Pelita sits on the site once occupied by Zouk Club KL. The Ampang Park shopping centre was demolished to make way for the construction of the KLCC East MRT station.
Jalan Ampang is home to many embassies and high commissions such as the Embassy of the People's Republic of China, Royal Netherlands Embassy, Embassy of Finland and Royal Thai Embassy.
The British High Commission and Embassy of France used to have their own premises in Jalan Ampang but they have since relocated to nearby office towers. The parcels they vacated are slated for redevelopment.
Raine & Horne International Zaki + Partners Sdn Bhd executive director Lim Lian Hong notes that Jalan Ampang was traditionally known for its old low-rise bungalows, embassies and government buildings. "Today, there are more high-rise developments such as office blocks, retail centres and apartments. The adjacent U-Thant area is known for its prestigious residences," he says.
The plethora of amenities and facilities makes the area idyllic and the population is rising and growing increasingly affluent.
On top of that, it has also seen improved connectivity and accessibility with new highways and public transport facilities such as the Ampang-KL Elevated Highway (AKLEH), Middle Ring Road 2 (MRR2), SMART tunnel, KLCC LRT station and the upcoming KLCC East MRT station.
VPC Alliance (KL) Sdn Bhd managing director James Wong tells City & Country that the main catalyst for Jalan Ampang is KLCC and Petronas Twin Towers.
"Being near KLCC or having a view of Petronas Twin Towers are the benchmarks for potential buyers looking for commercial land, which always commands a premium," he says.
As land around KLCC and Petronas Twin Towers is getting scarce, the trend of development along Jalan Ampang is moving towards the east rather than the west, notes Laurelcap Sdn Bhd executive director Stanley Toh.
Landmarks on the eastern side include Gleneagles Kuala Lumpur, Ambassador Row Hotel Suites by Lanson Place, Great Eastern Mall and Menara Perkeso. There are also new high-rise developments such as M Suites, 3rdNvenue @ Jalan Ampang, D'Rapport Residences, 3 Towers Jalan Ampang, M City and Pavilion Embassy Kuala Lumpur, he says.
The surrounding areas are Ampang Hilir, Kampung Datuk Keramat, Kuala Ampang, Taman Keramat and Desa Pahlawan.
"I think most of the old bungalows with huge land areas are making way for high-density developments. Bungalows lots in U-Thant, Jalan Damai, Ampang Hilir and the fringes of Jalan Ampang have seen redevelopment over the years," Laurelcap's Toh adds.
"Buyers are a mix of foreigners and locals. The locals are mostly those who used to live there or those who are working in Kuala Lumpur. They are mainly working adults or married couples."
VPC Alliance's Wong notes that these buyers are looking to live in a developed area with good amenities and infrastructure and easy accessibility to major highways.
Investors looking for capital appreciation are foreigners who go for high-end properties.
Raine & Horne International's Lim notes that the eastern side of Jalan Ampang has cheaper land and property prices than the KLCC side. He says average prices on the eastern side are below RM1,000 psf while those on the KLCC side range from RM1,000 to RM1,500 psf.
Even though many of the better-planned projects along Jalan Ampang have recorded excellent sales, Lim cautions that the occupancy rate might not necessarily be good.
Toh is concerned about the planning restrictions. He notes that only buildings of up to three storeys are only allowed in the centre of U-Thant, while buildings can go higher along the periphery of the area.
Property experts are generally upbeat about the prospects for the area mainly because of its proximity to KLCC. Toh notes that high-rise residential properties at about RM1,000 to RM1,300 psf would be suitable for the area.
"In the short term, prices will stagnate as supply still outweighs demand currently, but in the long term, I see positive growth as land for development is scarce. We expect the property market to be stable in the next five to ten years as more projects will be completed and it will take some time for the incoming supply in the area to be absorbed," he says.
Lim says the purchase of a KLCC property is best if one can hold it for the longer term.
"One can observe the long-term capital appreciation of properties surrounding key landmarks in any capital city across the world. For the 'centre of centre locations', property value is always there regardless of the cycle," he adds.
Punting in Jalan Ampang
The first race at the Selangor Turf Club (STC) in Jalan Ampang was held in March 1896, and it was won by amateur rider Paton Ker on Nightmare. Even though The Old Lady (old-timers gave the club the sobriquet) only saw 24 on-course races, there were 80 off-course races held in other cities and towns, which were then telecast live at STC. Punters would turn up to watch, triggering massive traffic jams.
This situation made the government shift the racetrack elsewhere. On Aug 23, 1992, the final race — the Ampang Farewell Stakes — was held with some 20,000 punters turning up to bid farewell to The Old Lady.
Popular disco song, The Final Countdown, was played over the public address system before the eighth race. When the evening came to an end, some 9,600 balloons in the club colours of red and yellow were released and the punters sang Auld Lang Syne.
The racetrack has been relocated to Seri Kembangan, Sungai Besi. Also fondly referred to as The Mines, the area comprises a shopping mall, a golf course, some hotels and residential estates.
Click / Tap image to enlarge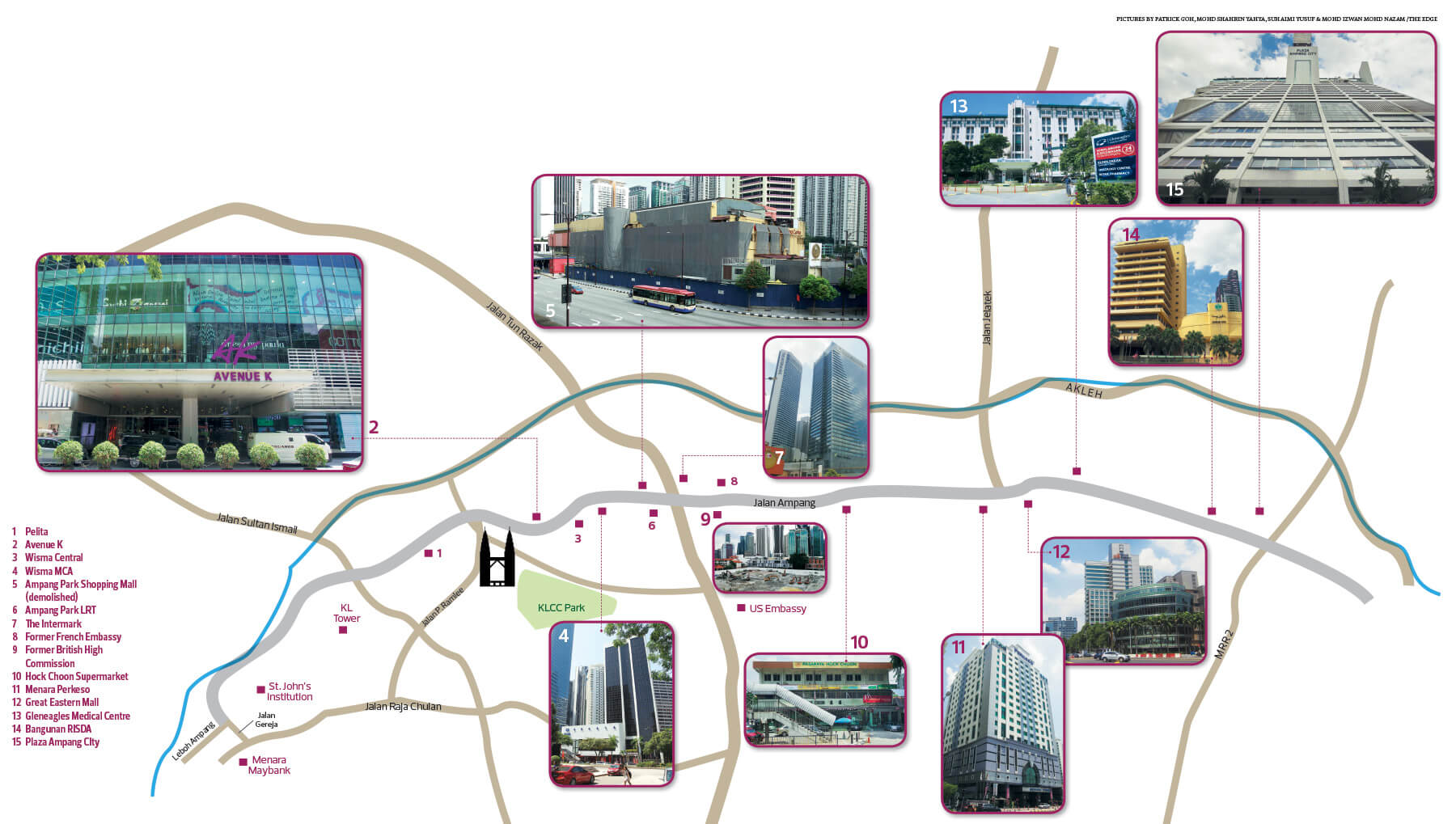 Save by subscribing to us for your print and/or digital copy.
P/S: The Edge is also available on Apple's AppStore and Androids' Google Play.