This article first appeared in City & Country, The Edge Malaysia Weekly, on January 13, 2014 - January 20, 2014.
Maha Sinnathamby is a man with a mission to build Australia's largest central business district (CBD). He is the chairman of Springfield Land Corporation — the master developer of Greater Springfield about 26km south-west of Brisbane, Australia.
He has been cited many times as a great success story by the media. His vision of building a master-planned community on a 7,067-acre tract, which had been inaccessible and inhospitable, has made him a very wealthy man. Australia's Business Review Weekly had him on its 2013 rich list — he is said to have a personal net worth of A$845 million.
However, he says he didn't do it for the money or the acclaim.
"I saw it as an opportunity and I compare this to being a sculptor," Sinnathamby says during a recent visit to Kuala Lumpur. "A sculptor is different from us — we see a rock, but he or she sees a beautiful face in it. The face is already in the rock and the sculptor brings it out. And I saw a forest and it was calling out to me. It was saying, 'Bring me out, I'm a city'."
Originally from Rantau, Negeri Sembilan, Sinnathamby's journey to becoming a property developer in Australia was not an easy one. He grew up in a poor family and his father was interned by the Japanese during World War Two. Through grit and determination, his whole family survived that trying time and Sinnathamby eventually studied engineering in the University of New South Wales in Sydney, Australia. After graduating in 1966, he returned to Malaysia and started working for international engineering company Binnie & Partners, a firm headquartered in London.
Sinnathamby says the firm was only involved in projects for the World Bank and Asian Development Bank. This experience helped him greatly.
"The World Bank would only finance long-term projects — from 30 to 50 years," he points out. "For example, we planned the Kuala Lumpur water supply in the 1970s for the year 2000. We did the Penang water supply. I did the Seletar dam in Singapore. [These are] long-term projects that have a lifespan of 100 to 200 years. I learnt how to plan a part of a city."
He was very successful at his job and after five years, at the age of 32, the company wanted him to start an office in Indonesia. But he rejected the offer, preferring instead to strike out on his own. In 1971, he migrated to Perth, Australia.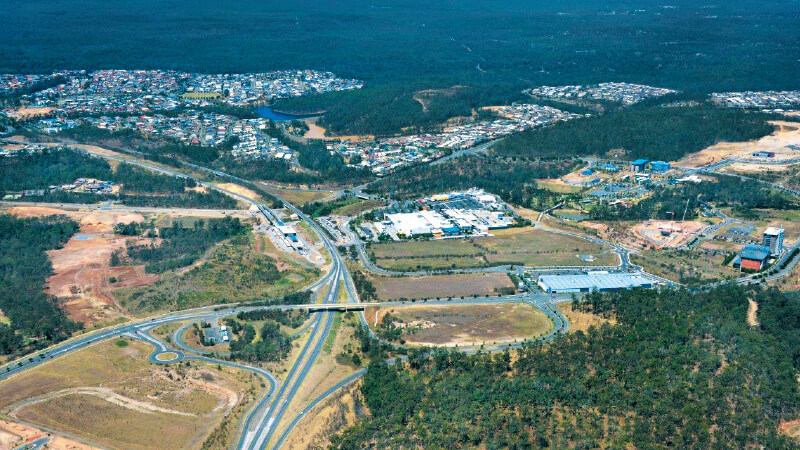 An aerial shot of Greater Springfield. Only 15% of the over 7,000-acre tract has been developed.
The move, however, was not a positive one. The country's economy was depressed and he was unemployed for at least a year. He worked as a real estate agent for a while, which fed his love for real estate. Nevertheless, as he needed to provide for his young family, he reluctantly took on a government job.
"I wasn't going to take it but my wife said, 'Please take it. You can't play business any more. You have three kids'," he says. "So I took the job. But my heart wasn't in it and I said I had to go out into the world. It was like being a bird in a cage and I wanted to get out and fly."
After four years with the government, Sinnathamby, along with another engineer, started Murdoch Constructions. For a period, he had great success.
"In five years, everything we touched turned to gold. We started building houses, and then we went into large shopping centres and office blocks."
In 1982, his partner resigned from the partnership. Due to the size of Murdoch Constructions, Sinnathamby was advised to restructure the company to create a public trust. He took the advice but soon after embarking on this route, the trust collapsed when a major trustee pulled out, resulting in Sinnathamby being leaden with debt to the tune of A$42 million.
He did not declare bankruptcy and decided to pay off the creditors. He eventually paid back nearly A$37 million and was released from the rest after a creditors' meeting.
Free from all encumbrances, he decided his time in Perth was over and in 1985, with a new business partner, Bob Sharpless, he moved to Brisbane to start over.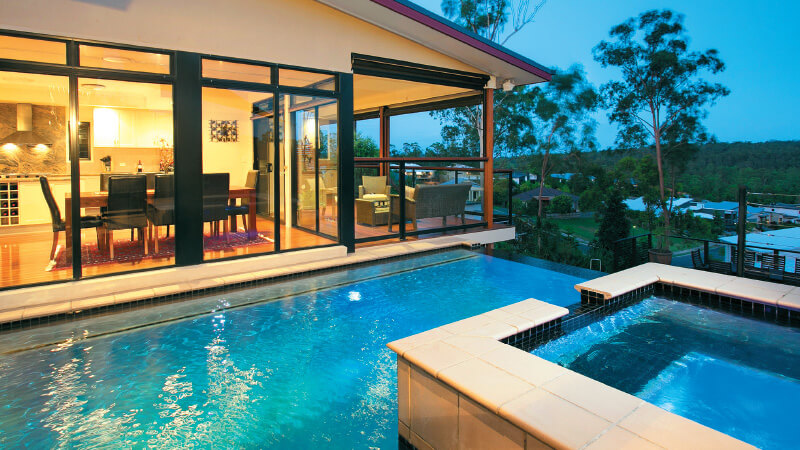 A house in Brookwater, the premier residential suburb in Greater Springfield
Greater Springfield's genesis
The move to Brisbane soon bore fruit when Sinnathamby got wind of a large parcel that was up for sale by Associated Forest Holdings. As the tract did not have many positive attributes, there were not many takers. However, Sinnathamby saw potential in it and in 1991, purchased it for A$7.84 million.
The following year, Greater Springfield was officially launched. At the time, only 10% of the parcel had approvals for development. To get the necessary approvals for the rest, it took an Act of Parliament, which was passed unanimously in 1997.
The entire project is governed by three core pillars — health, education and information technology. Thus, the parcel has been divided into a Health City, an Education City and a CBD. IT will be used to ensure that the cities are run efficiently.
For Health City, about 128.5 acres have been set aside and development has begun. "Under construction is a 1,200-bed hospital," says Sinnathamby. "It is driven by Mater Health Services, an established healthcare organisation of about 107 years old. Next to that hospital will be a centre for 320 healthcare support facilities, such as chiropractors and physiotherapists."
In the planning stages is a A$500 million research and development facility that will support the hospital by providing the latest healthcare information to aid doctors in the provision of the best care for their patients, he says.
There will also be 2,500 beds for aged care, which Sinnathamby says is becoming a pressing issue in Australia, if not the world. Talks are also ongoing with two leading universities that train doctors and medical practitioners.
Apart from healthcare facilities, hotels will be built — one to cater for the daily needs of patients such as new mothers and infants who need a comfortable place to rest, which will free up beds in the hospital, and another for family members of patients, he adds.
Meanwhile, Education City is located on a 44.5-acre tract. This is the education hub of Greater Springfield and it is in its sixth year of operation. The University of Southern Queensland, which is already based there, is expanding. There are also nine private and public schools, and 10 childcare centres.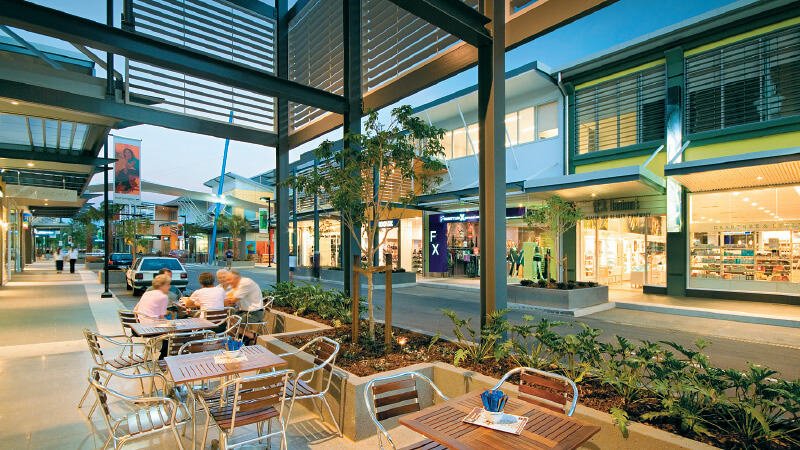 The streetscape at the Orion shopping centre
A 963-acre site has been allocated for the CBD, known as Springfield Central. Once fully developed, Sinnathamby says it will be the largest in Australia, as Brisbane's CBD is 385.5 acres, Sydney's is 398 acres and Melbourne's is 593 acres. Greater Springfield's CBD has approvals for over 15 million sq ft of mixed-used development including commercial, healthcare and technology facilities. It is expected to provide employment for 30,000 people.
"In addition to healthcare, we have General Electric Queensland's headquarters that is under construction, the University of Southern Queensland which is expanding and under construction, and the Orion shopping centre, which is expanding," he points out. "There is construction work of over A$700 million a year happening in Greater Springfield."
Its current population is 26,000, with a planned population of 105,000 by 2030.
There are six residential suburbs planned and the overall approved planned supply is 38,015 dwellings. The suburbs are Springfield (4,500 homes), Springfield Lakes (6,800), Springfield Central (19,855), Spring Mountain (4,000), Augustine Heights (760) and Brookwater (2,100).
House prices and types vary depending on the location. For example, in Brookwater — the premier residential suburb where the Greg Norman 18-hole competition golf course is located — houses are priced from A$740,000 (RM2.16 million) onwards, while those in Springfield Lakes are from A$384,000 onwards. Homebuyers have the option of buying a plot of land and a house design to be built on it, or a pre-determined land and house package.
At present, only Springfield, Springfield Lakes, Augustine Heights and Brookwater have transacted properties. Homes in Springfield Central and Spring Mountain are under development and have yet to be sold.
Property values in Queensland took a hit across the board during the global financial crisis, says Sinnathamby. However, the market has slowly recovered since February last year, he adds.
Queensland was also affected by the devastating floods in late 2010 to early 2011, whereby three quarters of the state were deemed as danger zones. According to property investment company IPIN Global's Queensland Property Market Report 2012, during that period, house prices fell drastically but recovery was seen in 2012 with levels bottoming out. Thankfully, Greater Springfield was not affected by the floods.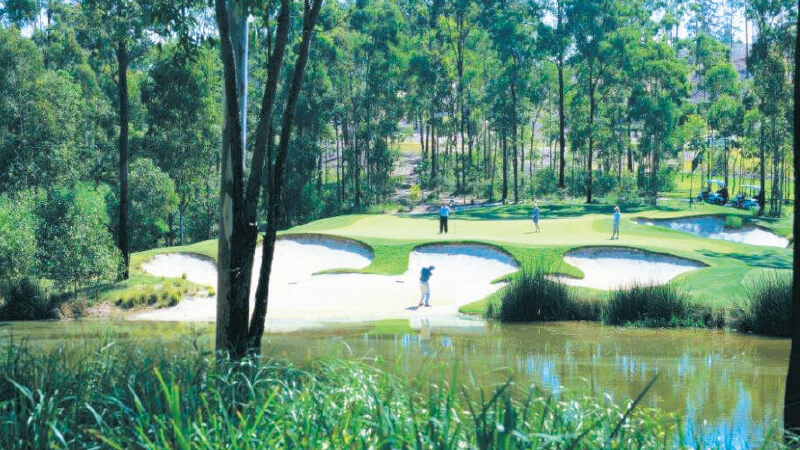 The Greg Norman designed golf course
Last year, according to the Real Estate Institute of Queensland's September 2013 quarterly median house price report, the preliminary numbers of house sales across the state grew 9% over the September quarter.
Meanwhile, Greater Springfield opened a A$1.2 billion railway line last month. This, Sinnathamby says, will be a "game changer" for the area as it will now have greater accessibility to the Brisbane CBD and beyond.
To date, investments into the development total A$9.7 billion, and the estimated cost on completion of the project is A$32 billion. The challenge, moving forward, is the need to build intelligent cities, says Sinnathamby. "These are cities where buildings can communicate with each other. We are talking about connectivity through IT facilities."
With the growth of Greater Springfield, many organisations are keen to work with Sinnathamby and his team. However, he is selective.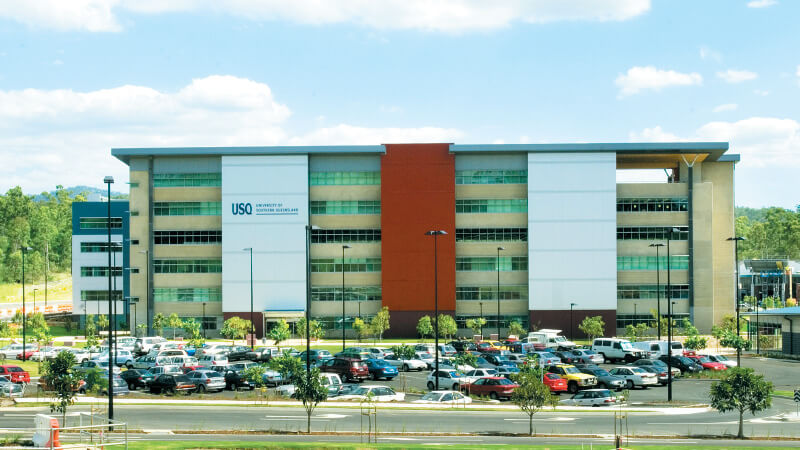 The University of Southern Queensland is expanding its premises to cater for its growing student population
"We have been approached by organisations and there is a plan to attract major developers that want to join forces with us, but they must have intellectual property," he says. "For example, we are talking to GE and Siemens, and they are involved in creating intelligent cities."
The involvement of these companies must add value to the education and healthcare sectors, he points out.
The efforts of Sinnathamby and his team were rewarded when Greater Springfield won the 2010 Fiabci Prix d'Excellence award for World's Best Master-Planned Community.
While the going was tough in the beginning, Sinnathamby's dream has enabled him to become one of Australia's foremost property developers. And that dream continues to grow.