This article first appeared in The Edge Malaysia Weekly on October 29, 2018 - November 4, 2018
COME Nov 4, the once mighty Malaysian Chinese Association — which has been part of the government since Malaysia's independence until about six months ago — will choose a new chief.
Politically crippled with just one member of parliament and two state assemblymen to its name, the party's relevance has been sneered at by many. But with the party elections looming, one common view stands out: The battle for the leadership is about who gets to control the vast business empire the party owns, rather than the political influence — or the lack of it — that it wields.
Various reports have pegged the value of assets under the party at as much as RM3 billion, but former president Tan Sri Seri Dr Chua Soi Lek tells The Edge in an interview that the latest figure is closer to RM2 billion. Chua was party president from March 2010 to December 2013.
His estimate is based on notable MCA assets and businesses, mainly, its stake in media company Star Media Group Bhd — which was 43.11% as at April 16 — and its 11.986% equity interest in plantation company Matang Bhd as at Dec 6, 2017. The party also owns Wisma MCA in Jalan Ampang, Kuala Lumpur, which houses its headquarters, and the Menara Multi-Purpose office tower in Jalan Munshi Abdullah, which it acquired in 2011 for RM375 million. While it also owns some assets and land bought with funds raised by divisions and branches in the states, some of which can be "worth quite a bit", Chua says he does not know their value.
The Star Media stake is valued at RM230.67 million, based on the stock's closing price of 72.5 sen per share last Thursday. Its stake in Matang, at seven sen per share, is worth RM15.16 million. Wisma MCA, which sits on a 53,335-sq ft freehold tract, is worth about RM1 billion if redeveloped, Chua says, while Menara Multi-Purpose is valued at about RM400 million.
Huaren Holdings Sdn Bhd, meanwhile, had total assets of RM59.43 million, based on its audited financial statements for the year ended Dec 31, 2017. But the lion's share of MCA's Matang stake — 10.876% as at Dec 6, 2017 — is held here. Assuming the RM25.63 million quoted shares in Malaysia parked under its financial assets at fair value through profit or loss only refer to the Matang stake as at end-2017, that leaves another RM33.8 million to be added to the tally.
MCA's stake in Star Media was previously worth much more. According to Bloomberg's data, the media company was trading at an adjusted historical high of RM2.03 per share on May 9 last year, which valued MCA's stake then — a marginally smaller 42.48% — at over RM789 million. MCA transferred the stake during Chua's leadership in 2010 for RM1.28 billion, or RM4.09 a share, from its investment arm, Huaren Holdings, to the party for tax-saving purposes as the income of political parties has been tax-exempt from assessment year 2001, as per Income Tax (Exemption) (No 22) Order 2002 PU(A) 208.
Declining earnings due to the mounting headwinds affecting the print media industry, coupled with the disposal of its 52.51% stake in Singapore-listed events and exhibition company Cityneon Holdings Ltd for S$115.61 million (RM360.18 million) last year, is a factor for the share price slump.
Still, the stake in Star Media is a cash cow for MCA — the dividends from the group are the party's main source of income, Chua says in his memoirs, Like Me or Hate Me, which was released last week. MCA earned RM133.38 million in dividends from Star Media last year alone, and a total of RM349.71 million from 2013 to 2017. Star Media is also asset strong. According to its 2017 annual report, it had assets worth RM1.15 billion, with a list of 18 properties as at end-2017 — with little debt (gearing ratio at 3.7% as at end-2017, and loans and borrowings amounting to RM102.5 million). The list includes Menara Star — which it recorded at a net book value of RM36.96 million, but is likely worth an estimated RM80.9 million now, according to CGS-CIMB's Oct 26 report — and seven vacant land parcels measuring 11.06ha with an estimated value of about RM141.2 million, compared with their net book value of RM47.8 million.
Matang, meanwhile, has RM108 million worth of estate land. It had planned to buy two more parcels of leasehold agricultural land measuring 1,707.69ha in Raub, Pahang, but the RM180 million plan was put on hold after an injunction was lodged on the sale of the parcels. Listed at 13 sen per share in January last year, Matang's share price has dropped by about half since its debut.
Menara Multi-Purpose, which MCA acquired in 2011 from Multi-Purpose Holdings Bhd for RM375 million and considered selling three years ago, is probably worth about RM406 million now, according to CBRE | WTW managing director Foo Gee Jen, going by the estimated RM750 per sq ft rate for such an office building in the Jalan Munshi Abdullah-Jalan Dang Wangi area. The estimate is not far from Chua's. Incidentally, CBRE | WTW's office is located on the 30th floor of the 43-storey office tower, which has a net lettable area of 541,424 sq ft, with 414 parking bays. Henry Butcher Malaysia Sdn Bhd at the time of the sale in 2011 valued the property at RM384 million.
As for Wisma MCA, Chua estimates the value of the land at RM213.34 million, based on RM4,000 per sq ft price, which is very optimistic even for the prime land, given that Singapore Oxley Holdings Ltd paid RM3,300 per sq ft for its 135,353 sq ft parcel along the same road in 2013, when land prices were at their peak. Going by a more conservative RM2,750 per sq ft, CBRE WTW's Foo says the land should be worth "at least" RM146.67 million.
As it is now, on an existing-use basis, and assuming the decades-old building that houses MCA's headquarters has a gross floor area of 250,000 sq ft, 75% of which is lettable at RM500 per sq ft, the property is worth less than RM100 million, "which shows it is currently under-utilised in terms of its development potential", says Foo.
The Edge broke the news last month that MCA plans to demolish the 23-storey building to make way for a 70-storey tower, citing documents sighted. The gross development value of the project, which will feature offices, a 328-room hotel that will occupy 24 floors, and a two-storey sky lounge and restaurant on the 68th and 69th floors, is estimated at RM1 billion. Kuala Lumpur City Hall purportedly gave its approval for the development on Aug 2.
The issue has since become contentious, with party veterans claiming they were kept in the dark about the plan. Party president Datuk Seri Liow Tiong Lai issued a statement saying the redevelopment plan has been in the works since Chua's presidency and that the process in pushing it forward has been transparent. Chua, however, says his idea was only to upgrade the San Choon Hall in the building, and not a complete redevelopment (see story above).
Interestingly, despite what is obviously at stake, none of the three contenders for the party presidency — Datuk Seri Wee Ka Siong, Gan Ping Sieu and Ngoo Teck Keong — claim to know the actual worth of the party's assets. Wee, who is currently deputy president, says it is best to refer to Liow on such matters while Gan calls for more transparency in handling party assets. Ngoo, who is Beruas MCA Youth chief, says, "I'm not so clear about how many assets we have, but I know of some as I was the private secretary to former transport minister Tan Sri Kong Cho Ha, who was also the secretary-general of the party."
Neither Liow nor treasurer-general Tan Sri Kuan Peng Soon could be reached last week for comment. Phone calls and text messages to them went unanswered.
While political parties are required by law to submit their annual financial accounts and balance sheets to the Registrar of Societies, efforts to get the information from the RoS last week proved futile, with an officer stating that the RoS "won't simply give out such information". The officer also suggested that The Edge refer to the political party itself. An email requesting the information from the RoS had not been answered at press time.

What about UTAR and TAR UC?
One of Ngoo's promises to party members if he is elected as president is to hand the two educational institutions that MCA founded — Universiti Tunku Abdul Rahman (UTAR) and Tunku Abdul Rahman University College (TAR UC) — to the present government "so that it can manage them and provide free tertiary education" to all Malaysians.
The suggestion gives the impression that UTAR and TAR UC belong to MCA and it can do as it wishes with them. It also sparked speculation about how much they are worth. However, neither UTAR nor TAR UC is for MCA to give away, according to several party veterans who sit on the board of trustees of these institutions, as they belong to two separate foundations set up specifically to manage and oversee their operations.
UTAR comes under the UTAR Education Foundation while TAR UC is under the TARC Education Foundation. According to their 2017 audited financial statements filed with the Companies Commission of Malaysia, the former has RM747.63 million in total assets, with the bulk, or RM437.34 million, comprising properties, plants and equipment. The latter has RM814.72 million, with a big cash pile (cash and bank balances) of RM585.58 million. Both are operationally healthy, recording a surplus of RM27 million to RM45 million over their expenditure last year.
"MCA does not own UTAR or TAR UC. Their incomes don't go to the party. You can take my word for it. They're overseen by boards of trustees on behalf of the two foundations. MCA only helped establish the institutions," former party vice-president Tan Sri Fong Chan Onn, who is also on the board of trustees for TAR UC, tells The Edge.
In terms of land, UTAR owns a 1,300-acre leasehold tract in Kampar, Perak, which it bought at a "very low premium of RM866,666" from the Perak government for its campus there. It also owns two freehold parcels in Sungai Long, Selangor, measuring about four acres in total, listed at a cost price of RM9.37 million in the 2017 financial statements. The institutional plots were never revalued since the foundation has no commercial intentions for them, according to UTAR president-cum-CEO Prof Datuk Dr Chuah Hean Teik.
The fact that UTAR — and TAR UC for that matter — has become part of the campaign by the presidential candidates does not sit easy with Chuah. "UTAR is an autonomous institution, which is independently run by professionals and overseen by its board of trustees," he says.
The university's ownership and management are regulated by the Companies Act as the foundation is registered as a company limited by guarantee, and guided by its Memorandum and Articles of Association (M&A), which clearly states its objectives and what it can and cannot do, he explains. "We are not for profit and our income is only for use for the stated objective of providing education to the public. The running of both institutions is also regulated by the Private Higher Educational Institutions Act 1996."
UTAR's objective has never deviated from its origins, which is to provide affordable and quality education to as many Malaysians as possible, he says.
TAR UC, which began operations in 1969 as Kolej Tunku Abdul Rahman, is managed in a similar manner as UTAR, says Fong. Liow and Wee are members of TAR UC's board of trustees, although veterans say this is more a matter of convention rather than rule as the M&A of the college does not have a provision that MCA's top two officials have to be on its board.
UTAR's board of trustees is headed by chairman Tan Sri Dr Sak Cheng Lum. Its members are past MCA president Tun Dr Ling Liong Sik, past MCA secretary-general Tan Sri Dr Ting Chew Peh, Kuala Lumpur Kepong Bhd CEO Tan Sri Lee Oi Hian and Datuk Dr Oh Chong Peng, who is the new Labuan Financial Services Authority chairman.
A third of UTAR's and TAR UC's boards of trustees have to retire each year, although they can seek re-election. Appointments have to be approved by the minister in charge of companies, that is, the minister of domestic trade and consumer affairs. Trustee members are not paid any fees and may only be reimbursed out-of-pocket expenses when carrying out their duties. In the case of TAR UC, the board of trustees must be at least 50% third parties with no connection with the foundation or its founders.
So, can Ngoo legally do what he has promised with the two institutions?
"Yes, legally, UTAR and TAR UC belong to the foundations, but it doesn't mean that they are not under MCA's control. Over half of their foundation members are MCA members. They cannot not follow MCA's directives. I don't think they will betray the party. I will set up a committee to look at how we can do it. I know it will not be easy," says Ngoo.

The candidates' intentions
Wee, the party's sole MP, says the assets owned by MCA are not his priority. "My priority is to transform the party into a strong opposition because we have a role to play in providing checks and balances against the new government," he says when asked about the sentiment that the winning candidate will likely be more involved in managing the party's substantial assets and businesses.
"As far as I'm concerned, they (MCA's assets) are not important. We are the only Chinese political party in the country. We can't say it suffered badly in the [14th] general election and just abandon our political work. That's our core business. That's why, despite my busy schedule with the party elections, I still go to parliament. If you perform well there, people will feel MCA's presence."
Gan, whom Chua is openly backing in the presidential race, wants MCA to leave Barisan Nasional to reinvent itself and form new alliances.
He also says he will set up a board of trustees — with past presidents, past deputy presidents and those with ministerial experience as members — to manage MCA's assets if he wins. The future president, his deputy and the secretary-general will not be on the board to ensure transparency and accountability and to avoid suspicion that party elections are about a tussle over the party's assets, he adds. This board will be obligated to brief central delegates during MCA's annual general assemblies on the status of the party's assets, income and expenses, and the delegates can query any doubtful figures.
"I am frustrated that the incumbent party leadership is not transparent in the party asset management, especially the redevelopment of Wisma MCA. It has been almost two months since the news broke, yet there has been no briefing on this by the current leaders. Central committee members told me that they were only given a skeleton report on the project, with little details about how it will be done and the future ownership structure," says Gan.
Ngoo wants to lead the party to work with the ruling Pakatan Harapan coalition to fight for and defend the rights of the Chinese community, never mind that MCA's sworn nemesis, the DAP, is in the coalition. "I want to use them (MCA's assets) for the good of the Chinese community. I'm interested in managing them in a proper way, but not for our own [individual] benefit."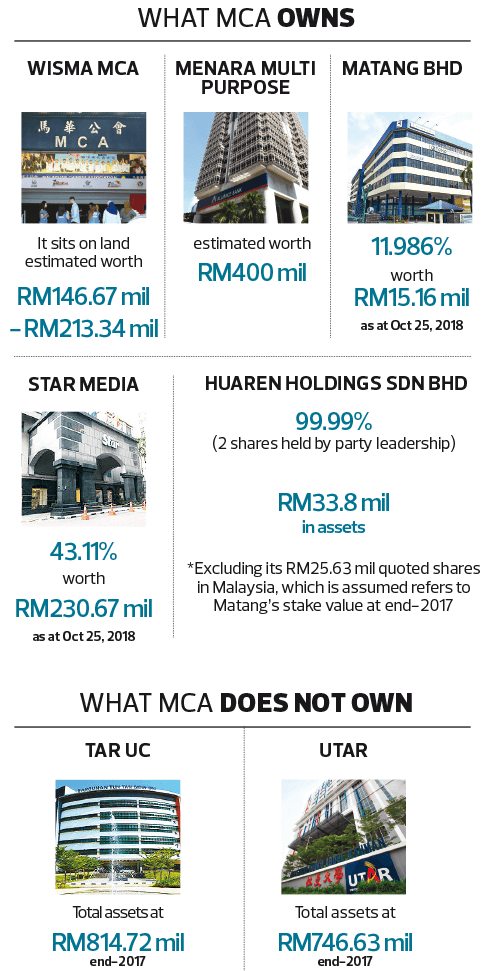 Save by subscribing to us for your print and/or digital copy.
P/S: The Edge is also available on Apple's AppStore and Androids' Google Play.