This article first appeared in City & Country, The Edge Malaysia Weekly on November 14, 2022 - November 20, 2022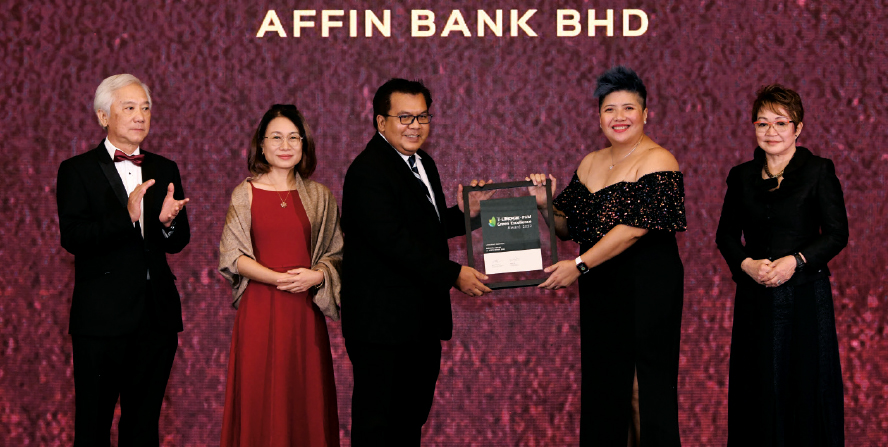 Affin Bank head of property and logistics department Airul Azhar Abd Ghani (centre) with (from left) The Edge Media Group publisher and group CEO Datuk Ho Kay Tat, The Edge Malaysia editor-in-chief Kathy Fong, City & Country editor E Jacqui Chan and The Edge Malaysia editor emeritus Au Foong Yee. (Picture by Mohd Izwan Mohd Nazam/The Edge)
Honorary Mention | Menara Affin | Affin Bank Bhd
A three-minute walk from the Tun Razak Exchange (TRX) MRT station brings pedestrians to the doorstep of Menara Affin, an opaque, glass-clad skyscraper situated at the south-east corner of TRX. The tower is part of TRX's 70-acre integrated development, which is poised to be Malaysia's new financial district.
"The building showcases a modern and progressive façade. Externally, the façade employs a modern curtain wall system that complements the building's passive design, with low-E insulated glazing to reduce the amount of infrared and ultraviolet (UV) light that comes through the windows," Affin Bank Bhd president and group CEO Datuk Wan Razly Abdullah tells City & Country.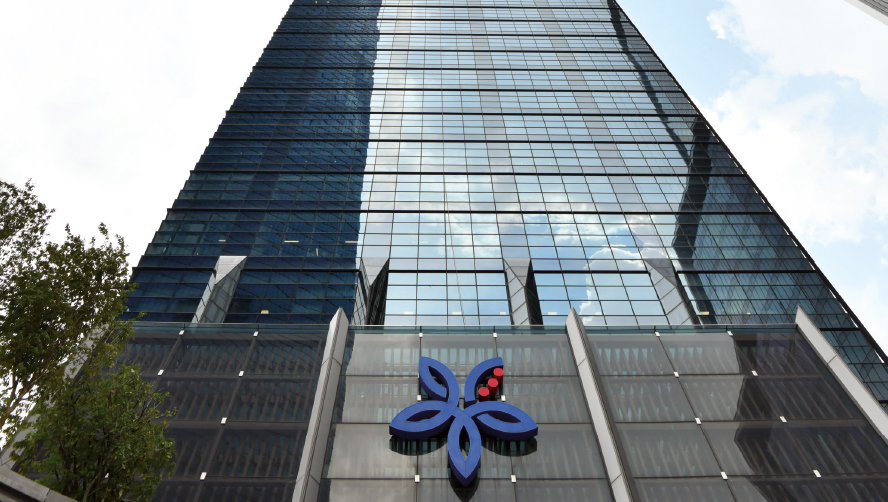 Menara Affin was designed to be in line with one of Affin Bank's A25 pillars — responsible banking with impact. (Pictures by Sam Fong/The Edge)
Sitting on a 1.25-acre site, Menara Affin is located at Persiaran TRX, Jalan Tun Razak, Kuala Lumpur. The building has 43 storeys with Affin Bank's offices occupying a total of 28 floors, namely Levels 3 to 29 for its employees and Levels 40 and 41 for the C-suite and executive offices respectively.
There are six floors dedicated to retail activities, located on Podiums 1 and 2 as well as Level 1, while details of the other floors are still being finalised. The tower's retail space has a combined built-up of around 16,000 sq ft. Meanwhile, there are over 800 parking bays spread across three basements and four podium floors. An Affin Bank branch can be found at the building's atrium on Level 2.
"About 60% to 70% of the building will be owner-occupied, whereby it will serve as office spaces for Affin Bank employees. The remaining floors will be rented to suitable tenants such as established companies, major conglomerates and multinational corporations," Wan Razly shares.
Menara Affin has a total gross floor area of 823,740.5 sq ft. The building had an occupancy rate of about 20% as at October this year. Apart from Affin Bank, a few F&B vendors have commenced operations. With a maximum capacity of about 3,000 people, the tower is expected to be fully occupied by the end of the year, says Wan Razly.
Completed in March this year, Menara Affin has received multiple certifications, including the Green Building Index (GBI) gold rating with 79 points, Leadership in Energy and Environmental Design (LEED) gold certification, a Qlassic score of 86% and an industrialised building system (IBS) score of 70 points. The building and its features were designed by local architecture firm, Arkitek MAA Sdn Bhd.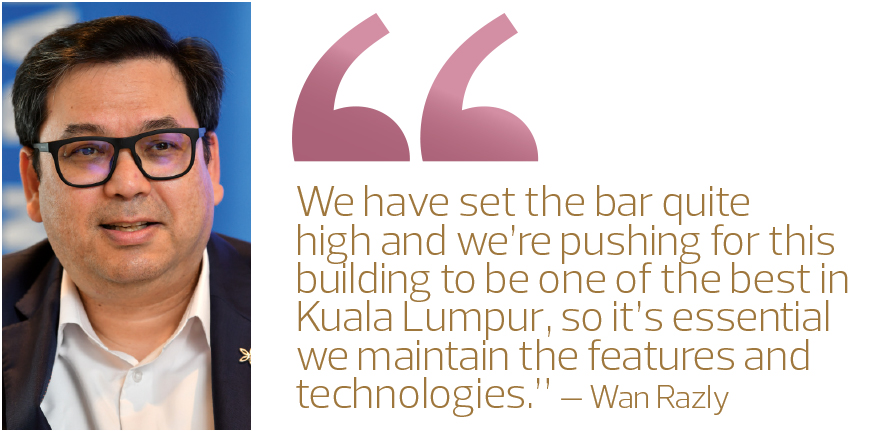 Wan Razly says the design concept for Menara Affin encompasses modern elements for the exterior and brings humans and nature together through biophilic designs for the interior.
Menara Affin received an honorary mention at The Edge Malaysia-PAM Green Excellence Award 2022.
Sustainable construction
"We wanted something that was energy efficient, something that would last many years … at least 20 and beyond. Having something calming, which would promote and harness employee productivity as well as customer comfort, was essential for us," says Wan Razly, adding that the building was designed to be in line with one of Affin Bank's A25 pillars — responsible banking with impact, which includes ESG financing, events for local communities and energy efficiency.
The first step to achieving a green building, Wan Razly says, is to start from the construction process. "Reducing embodied carbon was one of our targets for the building. We had clear intent and good strategies such as choosing building materials using the life cycle assessment (LCA) as a selection criterion, for both our construction and interior design materials.
"We also brought in materials from distributors close to the site and bought readily available materials in the market. In fact, 46% of the building's materials that were permanently installed were bought from local stores nearby," he explains.
Wan Razly adds that concrete is known to have the largest emission factor, which was one of the reasons the design team constructed the floor plates in flat slabs. "The slabs allow flexibility in terms of the room's layout, which has enabled us to have modular partitions on almost every floor.
"We have benefited from the layout's column-free architecture and spatial design because it has proved to be more efficient, flexible and interchangeable compared to our previous building. We can adjust certain meeting rooms and pre-function spaces with the moveable walls, whereby we can expand or shrink the rooms according to the type of events we host."
Incorporating biophilia
The biophilic interior design is apparent as plants and flowers adorn every corner of the building. There are also roof terraces on Levels 19 and 34, and a roof garden on Level 43 with well-kept landscaping. These floors are accessible to the building's occupants.
"We have also used soothing colours, earthy tones, patterns and textures for the walls and finishing. Even the carpets have a warm abstract and modern design. We wanted to show the affinity between man and nature, as we aim to create a calm and stress-free environment for our employees and customers," says Wan Razly.
Besides the greenery, the building also has modular ergonomic furniture and fittings that can be reused, relocated, disassembled and re-assembled into other parts of the building. Wan Razly says his team used systems that make use of the designs as well as the recycling, reuse and remanufacturing of materials practised by contractors and furniture manufacturers. Some of the furniture were brought in from their previous office building.
Additionally, Menara Affin will have multiple facilities to cater for the well-being and productivity of its employees, including nursing rooms, sick bays, a gymnasium, a library, an auditorium, a pantry on every floor and indoor green scaping.
Green features, modern technologies
Wan Razly says one of the GBI gold certification criteria is indoor environmental quality (EQ). The building's three sets of revolving doors at its main entrance help minimise the ingress of hot and polluted outdoor air.
"We also have high-efficiency chillers, VSD (variable speed drive) and air filters, all combined with UV lights to reduce airborne bacteria and viruses. These are measures we have taken due to the
Covid-19 pandemic. The CO2 sensors ensure the level of CO2 is maintained, which improves the overall air quality of the building," he shares, adding that the use of low VOC (Volatile Organic Compound) paint, sealant and thermal insulation also help reduce airborne pollutants.
To reduce solar heat gain, the building's exterior has an envelope design with silver-blue glass — in accordance with the TRX development code — plus its roofs are fully insulated.
Water-efficient fittings in the building include an intensive rainwater harvesting system, whereby the water collected is recycled and used for the building's cooling towers and flushing the toilets, says Wan Razly. The system provides 1,220 cu m of recycled water per year.
"We estimate, based on the current operations of the building, that we will be able to save 25% to 30% of our energy cost. Given the design of the building, this will be a very reasonable cost-savings rate for us. We have a bigger floor plan compared to our previous office and so we want to keep the energy consumption at the same or even lower level than what we were paying before in terms of energy cost," he explains.
On the challenges of developing a green building, Wan Razly reckons that the cost of incorporating green features is quite exorbitant. "There were a lot more features we wanted to incorporate in the building but we lacked the time and resources. For now, I think we have maxed out with the technology we have but in the future, we might add more and implement them in some of our branches."
To maintain these features, Affin Bank has appointed a maintenance vendor, which will be overseen by its management, says Wan Razly. "We have set the bar quite high and we're pushing for this building to be one of the best in Kuala Lumpur, so it's essential we maintain the features and technologies."
Save by subscribing to us for your print and/or digital copy.
P/S: The Edge is also available on Apple's AppStore and Androids' Google Play.