This article first appeared in Digital Edge, The Edge Malaysia Weekly on November 28, 2022 - December 4, 2022
NEWS
Grab rolls out new features as delivery becomes permanent part of post-pandemic life
Grab has unveiled new and enhanced features in line with evolving delivery trends. It has a revamped rating and review experience, a new self-pickup toggle and a "saver" delivery option that gives consumers more convenience and helps them save more money.
In its Southeast Asia (SEA) Food and Grocery Trends 2022 report, Grab pointed out that 94% of consumers turn to online reviews to make dining decisions, so it has enhanced its in-app rating and review experience to make it more seamless and engaging for consumers.
Consumers can now view merchant ratings and read food reviews of fellow users using the app. They can also easily order the dishes in the reviews with just one click of the "order now" button. Meanwhile, merchants can reply to reviews should they want to show their appreciation or provide a resolution.
As 83% of consumers use online takeaway services, Grab's soon-to-be-implemented self-pickup toggle feature will give self-pickup merchants greater in-app visibility. Consumers will be able to switch from delivery to self-pickup with a single tap and see all the available merchants around them.
Grab's new saver delivery option lets consumers save on delivery fees in exchange for a slightly longer wait time. This feature was specially created to provide more affordable delivery options for consumers.
Consumers can subscribe to GrabUnlimited subscription packs that come with delivery discount vouchers across various Grab services. Today, one in three food delivery users is on a subscription plan, and they tend to order 44% more frequently and spend close to 18% more compared with non-subscribers.
The report also showed that seven in 10 consumers view delivery as a permanent part of their post-pandemic lives, and eight in 10 merchants say delivery is a must-have for their businesses. The report is based on insights from more than 60,000 food and grocery delivery users in Southeast Asia and internal data.
Among the active users surveyed, the top three reasons for using these services were convenience, the ability to access what they want on-demand and to prepare for social gatherings. Results also showed an increasing dependence on delivery apps among consumers who now rely on platforms as their "search engine" to discover and try merchants they have never visited in person.
The report said consumers are not only ordering more but also spending more per order. Monthly food and grocery delivery expenditure was 30% higher in May 2022 than in November 2021. Singapore consumers spent the most on deliveries, while Vietnamese customers ordered most frequently in the region. In Malaysia, the largest order was for RM2,000.
Delivery platforms are a must-have, said eight in 10 merchants. On average, they saw a 15% increase in total sales revenue compared to before joining delivery platforms. As for McDonald's, about 30% of its Asia sales now come from deliveries, up from 10% before Covid-19.
The report also unpacked consumers' food and grocery ordering habits. About one in two Southeast Asian consumers surveyed had tried plant-based options in the last six months. Some 86% of the respondents ate at least one healthy meal every two to three days.
This trend is consistent with Grab users' ordering behaviour, with demand for healthy meals tripling on GrabFood between 2019 and 2022, and "health and wellness" orders growing five times on GrabMart between 2020 and 2022.
Fatberry introduces home contents insurance
Insurtech company Fatberry Sdn Bhd has introduced insurance coverage for home contents from RM75 per year. Policyholders can buy this insurance policy online instantly and get coverage of up to RM100,000.
Homeowners' existing fire insurance from banks only covers the building's structure and not its contents such as TV, refrigerator, sofa and dining table. Fatberry's policy will complement the existing one as their assets will be covered in the event of a flood, fire or burglary.
For more information on the policy or to purchase, visit fatberry.com.
MyTukar and Genie Malaysia record strong sustainable growth
Digital used car platforms myTukar and Genie Financial Services Malaysia — wholly-owned subsidiaries of Carro — achieved a combined revenue growth of 85% year on year. MyTukar has 33 branches across the country, as well as two reconditioning centres and five workshops with after-sales capabilities.
MyTukar's nationwide expansion is part of its goal to provide a trustworthy, hassle-free and the best digital experience when buying and selling, financing, insuring and servicing used cars.
It began its retail services last year and has sold nearly 6,000 cars to customers. Together with its wholesale business, it has sold more than 100,000 cars worth over RM3 billion via its network of 2,600 dealerships.
Meanwhile, Genie is on track to becoming the fastest-growing used car fintech player in the country as it celebrates the first anniversary of its operations. Its loan book currently stands at RM315 million and it has zero non-performing loans, while having positive earnings before interest, taxes, depreciation and amortisation (Ebitda).
Genie currently processes more than 3,000 applications monthly as it offers dealers and used car consumers seamless, artificial intelligence-enabled credit scoring and digitalised lending.
MyTukar and Genie are dedicated to being key contributors to the economy by creating jobs in Malaysia. At the height of the Covid-19 pandemic, Their strong financials not only allowed them to sustain their headcount but also expand its workforce from 175 to 1,300 local employees, providing job security to Malaysians in a heavily impacted industry.
Google Wallet now available in Malaysia
Cardholders of CIMB Bank (Mastercard credit cards), Hong Leong Bank (Visa credit and Mastercard debit cards), Hong Leong Islamic Bank (Mastercard debit cards) and Public Bank (Visa credit and debit cards) will be able to add their payment cards to Google Wallet and pay using their Android phones or Wear OS devices where contactless payments are accepted.
Cardholders of HSBC (Visa and Mastercard credit cards) and HSBC Amanah (Visa and Mastercard credit cards) will be able to add their cards to Google Wallet in the coming months.
Google Wallet provides a safer, simpler and more helpful payment experience for people and supports digital items such as boarding passes. Boarding passes from AirAsia can be added to Google Wallet while those from Malaysia Airlines will be available soon.
With boarding passes added to Google Wallet, they will be notified of departure time and gate changes to allow them to breeze through the boarding process at the airport. Furthermore, they will be able to tap and pay safely and securely using Google Wallet on their overseas travels without the need for their physical card.
"With Google Wallet, Malaysians can tap to pay in stores or checkout seamlessly online. They can also easily access their boarding passes when they jet off for their year-end holidays. Google Wallet helps keep everything protected in one place, no matter where you go," says Google Malaysia managing director Marc Woo.
To get started, simply download Google Wallet from the Google Play Store.
HariGaji and Digi's altHR team up to offer earned wage access to employees
Digi Telecommunications Sdn Bhd's innovation arm Digi-X has partnered with financial wellness platform HariGaji to offer Malaysian businesses a new tool called Earned Wage Access (EWA) at no additional cost.
EWA — which is part of Digi's HR super app, altHR — gives users access to short-term liquidity, allowing them to withdraw up to 50% of their earned salaries directly via the platform at any point in the month.
Through EWA, employees on altHR can have access to emergency funds with improved financial security and reduced waiting time of less than an hour for updates on withdrawal requests. While they are subject to a transaction fee of RM15 for the first transaction or withdrawal in the month, HariGaji will process all subsequent transactions in the same month for free. This not only allows companies to effectively offer salary advances to their employees without impacting their working capital but also improves employee relations, reduces employee turnover and lowers annual rehiring costs.
HariGaji is the first Earned Wage Access provider in Malaysia and is shariah-compliant as certified by Malaysia Digital Economy Corporation's Islamic digital economy.
Garmin joins forces with YAS MicroInsurance to offer free-of-charge coverage
Garmin Malaysia and YAS Digital Malaysia, a blockchain-based insurtech company and licensed insurance agency of Etiqa General Insurance Bhd, are collaborating to extend its ACTYVE 3 sports insurance to new and existing Garmin users in Malaysia for free.
ACTYVE 3 entails three times use-on-demand coverage that protects users and their belongings for up to 24 hours per use. The insurance plan provides up to RM2,000 coverage for medical expenses and personal effects and up to RM10,000 coverage for accidental death or partial disability brought on by a selected activity.
The YAS ACTYVE plan covers activities such as running and cycling as well as gym, yoga and water activities. Users can also access third-party apps such as Spotify and WhatsApp once the protection has been activated on the YAS Malaysia app.
The protection applies even if their smartphones run out of battery while they are working out. Users simply need to provide the relevant details and necessary information when submitting claims.
This redemption is only available until Dec 31, 2022, and the plan lasts for three months from the date of redemption.
The YAS ACTYVE 3 passes are redeemable through the YAS Malaysia app, which is available for download from the App Store for iOS users and Google Play for Android users. Additionally, those interested can purchase the plans in packages of 3 or 12 units of activities for the affordable price of RM3 and RM10.80 respectively. For more information on the sports insurance plans, visit https://my.yas.io/.
RESOURCES
AI-powered global climate law and policy database to be launched
The Grantham Research Institute on Climate Change and the Environment at the London School of Economics, the Sabin Center for Climate Change Law at Columbia University and Climate Policy Radar have come together to upgrade open data resources on global climate law, policies and legal cases.
The collaboration will bring together the partners' world-leading databases on global climate law — the Grantham Research Institute's Climate Change Laws of the World and the Sabin Center's Global Climate Change Litigation — and enhance them with artificial intelligence-powered features developed by tech start-up Climate Policy Radar. The partners are launching these revamped online resources to strengthen understanding of climate legislation, policy and litigation.
The Climate Change Laws of the World database is the most comprehensive global resource on climate law and policy. The database includes national-level climate change-related legislation and policies from nearly every country in the world, including detailed summaries and the full text of the legislation and supporting documents. The database builds on more than a decade of data collection led by the Grantham Research Institute and supported by numerous partners, including Sabin Center.
Meanwhile, the Global Climate Change Litigation database contains information on climate lawsuits worldwide, including the full text of pleadings, briefs, decisions and other documents.
Climate Policy Radar is developing AI technology that can automatically "read", extract and share useful information from the documents in these databases. For the first time, users will be able to search the complete text of thousands of climate law, policy and litigation documents from every country. Users will also be able to search documents published in any language, opening up resources that were previously inaccessible due to language barriers.
Climate Policy Radar is also developing AI-based text classification models to identify climate and policy concepts in the documents. This new functionality will enable advanced analysis and modelling at a global scale, making it easier to spot patterns and highlight action gaps across jurisdictions.
By turning documents into searchable, accessible and useful information, the partnership aims to support and advance global research efforts to understand climate laws, policies and litigation. The resources offered are free and open, contributing to greater transparency, accountability and equity.
PEOPLE MOVES
Revenue Monster Group appoints new chairman
Revenue Monster Group, a Malaysian financial technology company, has appointed former Affin Bank Group CEO Kamarul Arifin Mohd Jamil as its new chairman. The appointment marks the group's next step in its plans for hypergrowth in the fintech space.
An economics graduate from the University of Cambridge, Kamarul spent more than a decade with the Affin Bank Group before spearheading the growth of Fullrich Malaysia as its chairman in 2020. With a track record of driving profitable growth and fostering a corporate culture based on the values of safety, service, innovation and team spirit, he intends to guide the rapid growth of Revenue Monster Group.
Bonsey Jaden appoints new MD
Sagar Paranjpe, former head of brand, strategy and creative at Malaysia Airlines, has joined Bonsey Jaden as managing director and will oversee the Malaysian market with a team of 50 individuals.
Paranjpe reportedly said he would be developing a strong, sustainable culture at the company so that the team would want to not just stay with the organisation but also grow with it, in the hope of providing confidence to clients in the industry as it directly affects their growth too.
Bonsey Jaden is now part of the CUE Group, a China-based digital tech group that acquired a majority stake in the agency last year. The acquisition was done to boost CUE Group's expansion across Asia and the US.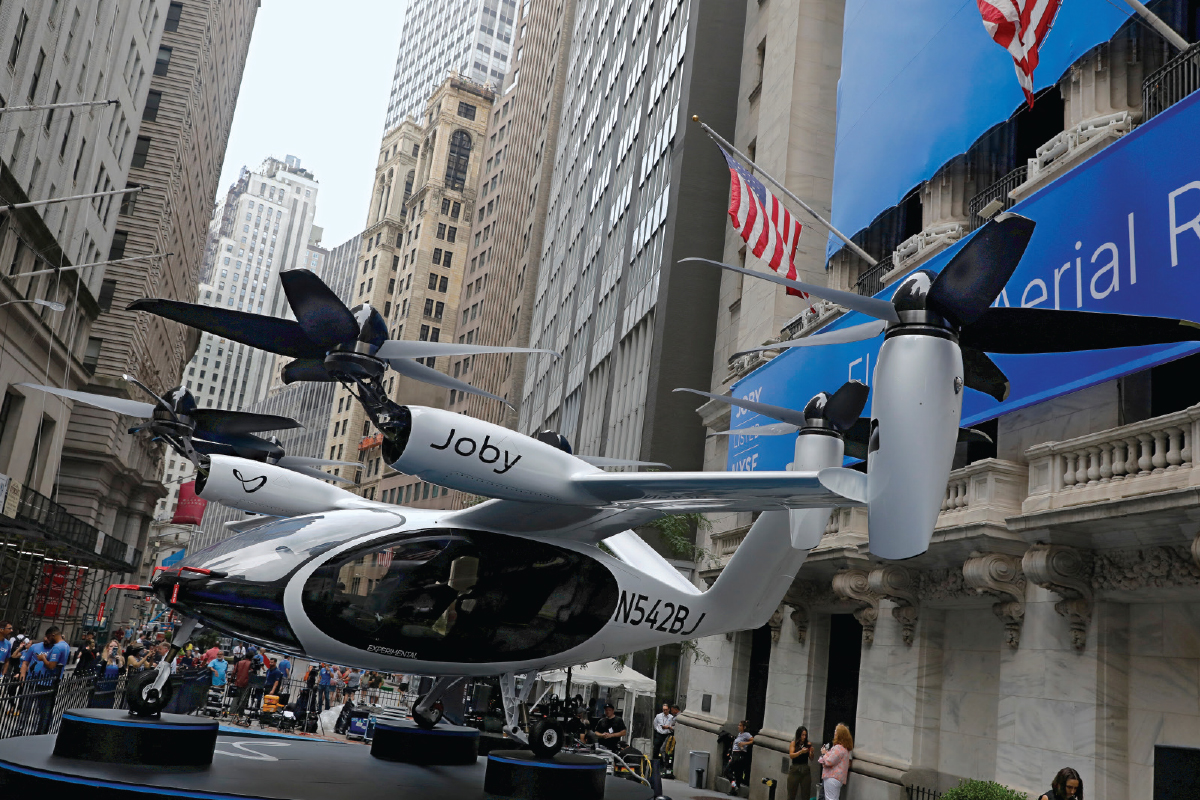 QUOTE OF THE WEEK
"This powered-lift definitions rule lays the foundation that will allow operators to use powered-lift aircraft. This is important because our regulations have to cover powered-lift aircraft for them to be able to operate, including commercially."
— The US Federal Aviation Administration
The US Federal Aviation Administration has proposed new rules to pave the way for commercial air taxi operations in a couple of years. The proposed rules for electric vertical take-off and landing aircraft (eVTOL), which have been touted as the future of urban air mobility, would allow the formal addition of machines that show mixed characteristics of helicopters and planes to the list of regulated aircraft, according to Reuters.
With the new guidelines, global firms that have been developing "flying taxis", as eVTOLs are colloquially known, would be able to start offering flights to customers.
TECH BOOKS
The Master Algorithm: How the Quest for the Ultimate Learning Machine Will Remake Our World by Pedro Domingos
In the world's top research labs and universities, the race is on to invent the ultimate learning algorithm: one capable of discovering any knowledge from data and doing anything we want before we even ask.
In The Master Algorithm, Pedro Domingos lifts the veil to give us a peek inside the learning machines that power Google, Amazon and your smartphone. He assembles a blueprint for the future universal learner — The Master Algorithm — and discusses what it will mean for business, science and society. If data-ism is today's philosophy, this book is its bible. — Amazon
DIGITIONARY
INTRAPRENEURSHIP
Coined to describe employees' willingness to take on responsibility and try new ideas, intrapreneurship is about creating a new business or venture within one's organisation.
Intrapreneurs work with existing company resources to execute innovative ideas that drive strategic growth. Sometimes that business becomes a new section, department or even a subsidiary.
Save by subscribing to us for your print and/or digital copy.
P/S: The Edge is also available on Apple's AppStore and Androids' Google Play.