This article first appeared in Digital Edge, The Edge Malaysia Weekly on June 13, 2022 - June 19, 2022
NEWS
Twitter expands freedom of speech search prompt in Southeast Asia
Twitter has expanded its #ThereIsHelp notification service and "Freedom of Speech" search prompt in Malaysia, Indonesia and the Philippines. Launched in Thailand on May 27, the feature is part of its continued efforts to protect and promote the #OpenInternet globally.
The microblogging site partners with local civic groups and government organisations in each country and the notification service will appear whenever people search for keywords associated with freedom of expression on Twitter. The notification will prompt hotline numbers and links to local partners to connect those in need of advice or access to resources related to freedom of expression and digital rights.
To promote this cause in Malaysia, Twitter has partnered with the Centre for Independent Journalism (CIJ) Malaysia, Lawyers for Liberty and The Human Rights Commission of Malaysia (Suhakam).
Twitter has launched more than 300 #ThereIsHelp prompts in 41 languages in 106 markets around the world to address a wide range of issues, including mental health and suicide prevention, vaccination, child sexual exploitation, Covid-19, gender-based violence, human immunodeficiency virus (HIV) and disaster response. The launch of #ThereIsHelp in Thailand last year was the first search prompt developed for human rights defenders.
Kaodim ceases operations
Services marketplace Kaodim, which was established with the idea of building the next generation of small and medium enterprises (SMEs) in the home services space, has announced that it and all of its affiliate platforms will no longer be operational as of July 1.
A challenging two-plus years with prolonged Covid lockdowns brought about operational disruptions, labour shortages and higher running costs, which significantly affected the company's business and the services it provided. The knock-on effect of those challenges, which came alongside inflation and rising costs, affected customer demand, service provider fulfilment, margins and, ultimately, the earnings of the company.
Kaodim will be honouring its obligations to its employees in terms of notice and severance payments as it ceases operations. "We did not come to this conclusion lightly. Indeed, we considered and exhausted all options that were available to us," says its co-founder and CEO Choong Fui Yu.
Malaysian children are big consumers of YouTube, TikTok and WhatsApp
Kaspersky reviewed anonymised data and found that children are avid consumers of video content, particularly from social media platforms such as YouTube, WhatsApp and TikTok.
The global cybersecurity company combed through search queries, most popular Android applications and website categories to explore children's interests on the internet. The data is aimed at helping parents acknowledge their children's interests and passions.
As at March 1, YouTube's Android app topped the chart with 35.65%, followed by WhatsApp (16.21%) and TikTok (12.32%). Malaysian children frequently used YouTube Kids (6.08%) as well.
In the requests received by Kaspersky's Safe Kids, children are mostly interested in anime (Japanese film or television animation), bloggers, do-it-yourself (DIY), educational content, games and memes.
Kaspersky recommends that parents learn about their children's online habits and how these can affect their child's activities. It also suggests that parents teach their children to block websites and report prohibited content. This is to ensure children have a wholesome internet experience.
The firm stressed that it is also important for parents to use reliable security solutions and monitor their children's screen time. The company has launched the updated Kaspersky Safe Kids, which comes with additional options for parents to check on their children's online activities.
Singapore heading to the metaverse through its digital twin
Singapore-based start-up Vizzio Technologies has modelled the city state entirely in 3D using thousands of satellite photos, with the aim of bringing the highly elaborate digital twin into the metaverse. The entire city, which has been reconstructed with painstaking precision, makes it the world's largest digital twin and will be used by professionals to market their products, as well as for gaming and leisure purposes, reported ETX Studio.
The digital city, entirely recreated on a 1:1 scale, is Singapore's most comprehensive entry into the metaverse. The country launched its first digital twin, Virtual Singapore, in 2014.
Vizzio envisions itself digitally "cloning" other large cities in the future as digital twins are a comprehensive tool for collecting a multitude of information in real time via sensors, drones and other tools.
Alert system to find missing children to be rolled out in 25 countries, including Malaysia
Instagram will add a new feature to its platform by launching Amber Alerts, a child abduction emergency alert system, in an effort to put the power of its vast social network to good use. Previously deployed by Facebook in 2015, Amber Alerts, which raises public awareness and calls for help to locate missing children, will allow alerts to appear directly on users' Instagram feeds and provide important details to help users recognise the missing child.
The service will gradually be rolled out in 25 countries, including Malaysia. Instagram works in partnership with organisations such as the US' National Centre for Missing and Exploited Children and the UK's National Crime Agency, among others.
COMPETITION & GRANTS
Global Technology Grant and 4IR Catalyst Grant for tech companies to expand reach
Malaysia Digital Economy Corporation (MDEC) is accepting applicants for its Global Technology Grant (GTG) and 4IR Catalyst Grant (4ICG). Tech companies and start-ups are encouraged to apply for these grants so they can expedite their digital agenda, as the global market is keen on solutions that can bridge the digital gap, says MDEC.
GTG is for technology companies or start-ups that want to expand their presence with additional products or service commercialisation, with a maximum project period of two years. The grant is also open to foreign tech players to set up centres of excellence in Malaysia, to conduct high-value R&D and innovation-based projects.
The 4ICG was established to catalyse the development of 4IR technology in businesses as outlined in the National 4IR policy. The grant focuses on the co-creation, problem-solving and commercialisation of 4IR solutions, with a project duration of one year.
Applicants of the grants can be local or foreign companies. Local companies will receive up to 50% of the total project cost or RM2 million, while foreign companies will get 30% of the total project cost or RM2 million.
Twelve companies were chosen to receive these funds in 2021. Applications are open until June 30. Successful recipients will be notified within two months of the closing date.
For more details on the requirements, eligibility and timeline, visit https://mdec.my/4icg, or https://mdec.my/gtg/
MDEC launches Digital Content Creators Challenge
Malaysia Digital Economy Corporation (MDEC) has launched the Digital Content Creators Challenge (DC3) 2022.
The challenge, which started in 2006 and was previously known as the Intellectual Property Creators Challenge, is a competition-based programme designed to assist content creators in developing and producing high-quality digital content as well as to increase the development of intellectual property (IP). This effort is in line with the Malaysia Digital Economy Blueprint, which aims to produce 200 IPs by 2025.
DC3 focuses on three categories: digital comics, animation and digital games. Winners of the digital comics category will receive up to RM25,000 and will have six months to complete their project. Winners of the animation category will receive up to RM100,000 and have eight months to complete their project. Digital game producers will be rewarded with up to RM100,000 and have 10 months to complete their project.
Past winners of DC3 have also won international awards. For instance, The Pillar of Strength by Creatvtoon Studio recently won the award for Best Animation at the Couch Film Festival in Toronto, Canada, and for Best Animation at the Cinematic European Film Festival in Romania.
Aspiring digital content creators are encouraged to apply for the competition. The closing date is June 15. Visit https://mdec.my/DC3 for more information on this year's programme.
Alibaba revives LiveNOW Programme to help Malaysians seize e-commerce opportunities
The LiveNOW Training Programme, Alibaba Group's corporate social responsibility (CSR) initiative, is being redesigned to upskill and reskill more Malaysians, including those from the B40 group and underserved communities, to help them unlock opportunities in the interactive e-commerce world.
Designed mainly for those exploring a career in live streaming or online video producing, LiveNOW 2022 is also relevant for business owners, especially micro-entrepreneurs who are keen to host their own live streams or produce e-commerce videos to deepen consumer engagement.
Through this year's programme, Alibaba aims to train up to 300 participants in collaboration with MODEN KOL Academy and with the support of HRD Corp, MYNIC Bhd, Selangor Information Technology and Digital Economy Corporation, and Penang Youth Development Corporation.
All training sessions will be conducted in three languages for three consecutive Saturdays, starting with the English session on June 25, the Bahasa Melayu session on July 2 and the Mandarin session on July 9. All sessions will be held online.
Online registration is now open to Malaysians aged 18 and above. Seats are available on a first-come, first-served basis. For more information, visit https://bit.ly/livenow2022.
PEOPLE MOVES
Simon Naylor joins Onapsis as VP of Asia-Pacific
Onapsis, a cybersecurity platform that provides compliance solutions for cloud and business-critical applications, has appointed Simon Naylor as vice-president of Asia-Pacific. He will be leading and developing a sales team that will expand the company's footprint to drive growth in the region.
Naylor has over 30 years of experience in sales for high-tech solutions and a stellar record for rapidly growing revenues. He previously served as vice-president at Brightcove and Infinera Inc, where he drove revenues and established high-growth go-to-market strategies.
Involve Asia appoints Rene E Menezes as president
Rene E Menezes is the new president of Involve Asia, a global marketing technology company. He will spearhead its commercial development and jointly manage the company and its stakeholders with founder and CEO Jimmy How.
The appointment is part of the organisation's efforts to bolster its management team at its headquarters in Kuala Lumpur. Menezes has more than 25 years of leadership experience in his previous roles as director of the Southeast Asian partner office of SimilarWeb and former CEO of CtrlShift.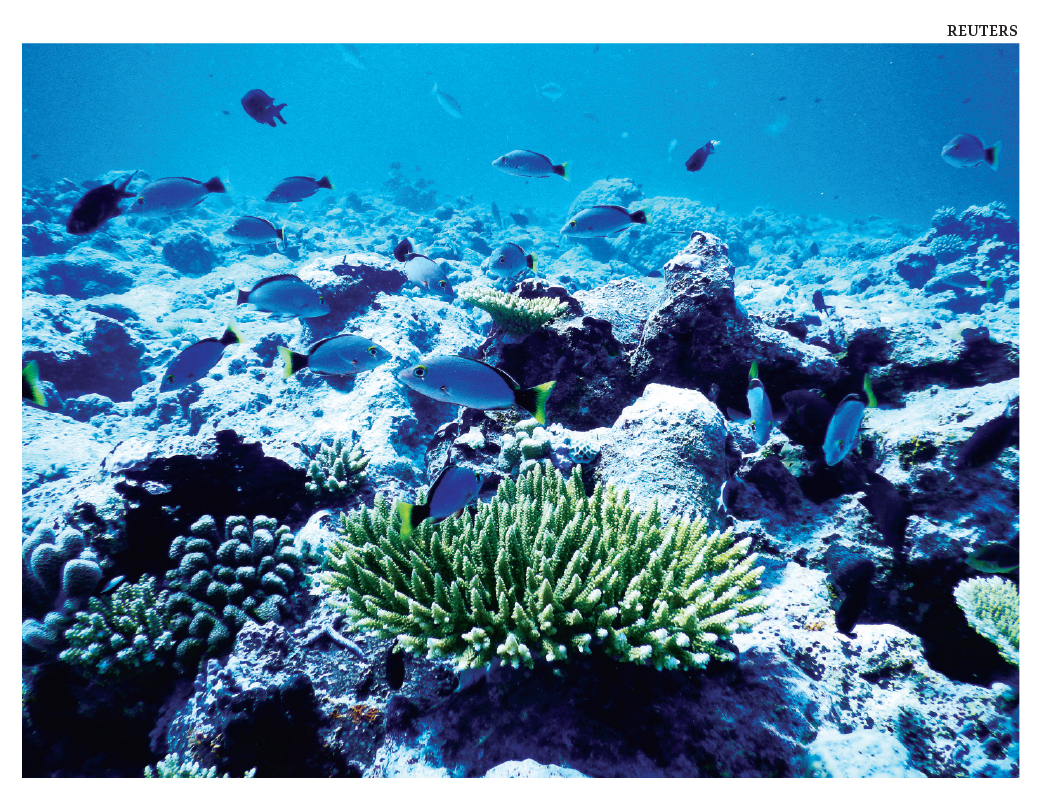 PICTURE OF THE WEEK
A team of experts led by Zoological Society London have used satellite technology to monitor some of the world's most remote and vulnerable coral reefs, and for the first time, observed multiple climate change-related stressors from data freely available through Google Earth Engine. While satellite data has long been used to monitor surface temperatures of some of the world's most remote and hard to reach marine habitats, the conservationists have gone one step further, using Google Earth Engine technology to investigate how changing environmental factors combine to impact shallow reefs in different ways. The team created a Reef Environmental Stress Exposure Toolbox (RESET) from the readily available Google Earth Engine geospatial processing platform. Using the varied satellite data, they were able to map out dangerous combinations of environmental stressors caused by climate change and monitor the reefs all year round. ­— Reuters
"Strong encryption protects the privacy and safety of billions of people, including children. Taking that away is a mistake."
Will Cathcart, vice-president of WhatsApp, on a Twitter thread commenting on a proposed EU regulation that could mandate the scanning of encrypted messages for child sexual abuse material, which would proactively scan all private content.
WHILE YOU WERE WORKING
(FROM HOME)
Boost search engine optimisation using AI — NexWriter
NexMind AI Sdn Bhd, an enterprise search engine optimisation (SEO) developer, has introduced NexWriter, an artificial intelligence-powered content generation software for users to generate SEO-driven and human-like text within minutes.
The new software is suitable for generating both short and long content, particularly advertising copy, web page headers, company and product information, and blog articles. It currently supports English and Arabic, and the company will add Japanese to its arsenal soon.
The software is suitable for in-house marketing executives and digital marketing consultants looking to generate content for clients who want to boost the visibility of their websites. It is available on a subscription basis.
NexWriter comes equipped with a Q&A Outline Module, which provides users with analytical insights every time a query is made, to address long-tail keyword searches more effectively. The software makes it easy for users to generate useful content for website ranking by providing smart recommendations that appear as subtopics to guide them throughout the process.
NexWriter is available as a standalone product from US$89 (RM391.20), but it can be bundled with the NexODN SEO optimisation software. It is also available in a non-SEO version for general content generation requirements.
The company's flagship product NexODN is a robust AI-trained software that transforms traditional and labour-intensive digital marketing tasks into an automated system to boost website ranking. For more details, visit www.nexmind.ai.
DIGITIONARY
Key opinion leader (KOL)
A KOL is an expert or someone with a strong social status, and his or her recommendations and decisions are held in the highest regard. KOLs are usually notable figures in their communities and are deemed true professionals and trusted individuals.
Most KOLs are contributors in the science and technology fields, although they do exist in a wide range of industries, and may be addressed with a variation of this term. They establish their reputation through years of experience, professionalism or research.
TECH BOOKS
Border Hacker: A Tale of Treachery, Trafficking, and Two Friends on the Run by Levi Vonk
Axel Kirschner is a lifelong New Yorker, with all the hustle and bravado of those from Queens. But he is also undocumented. After a minor traffic violation while driving his son to kindergarten, Axel is deported to Guatemala, a country he swears he has not lived in since he was a baby.
While fighting his way back through Mexico on a migrant caravan, Axel meets Levi Vonk, a young anthropologist and journalist from the US. That chance encounter would change both of their lives forever.
Levi soon discovers that Axel is no ordinary migrant. Axel is harbouring a secret: he is a hacker. This secret launches the two friends on a dangerous adventure far beyond what either of them could have imagined.
While Axel's abilities give him an edge in a system that denies his existence, they also ensnare him in a tangled underground network of human traffickers, corrupt priests and anti-government guerrillas eager to exploit his talents for their own ends. Along the way, his secret only raises more questions about his past: How did Axel learn to hack? What does he want? Is he really who he says he is?
Border Hacker is both an adventure saga — the story of a man who would do anything to return to his family, and the friend who would do anything to help him — and a profound parable about the violence produced by US immigration policy told through a single extraordinary life. ­­—Amazon
Save by subscribing to us for your print and/or digital copy.
P/S: The Edge is also available on Apple's AppStore and Androids' Google Play.