This article first appeared in Digital Edge, The Edge Malaysia Weekly on March 14, 2022 - March 20, 2022
NEWS
CompareHero.my and CTOS collaborate to increase knowledge on credit scores and customised product solutions
Financial comparison platform CompareHero.my and credit reporting agency CTOS have partnered to offer Malaysians a free credit score assessment to help them better understand their creditworthiness. The collaboration provides customers with a one-stop solution for quick financial health assessments and comparisons of financial products based on their individual credit standing.
In more mature financial services markets, customers are allowed to personalise products according to their specific wants and needs, be it personal loans, credit cards or home loans.
The partnership between CompareHero.my and CTOS lays the foundation for personalised financial product recommendations to users via their online platforms. With a common goal of improving financial literacy in Malaysia, the companies arm consumers with the knowledge of their MyCTOS score report, which empowers them to increase their credit scores by paying their bills on time.
A high credit score shows that the customer is diligent in paying his bills, leaving banks more inclined to approve credit applications, offer better terms and speed up loan approvals.
CompareHero.my will be offering 5,000 CTOS scores on a first-come, first-served basis. Its users will be able to obtain this through the CTOS eKYC solution, which will be integrated into its platform.
BigPay launches fully digital personal loan plan
BigPay Later Sdn Bhd has launched its first digital personal loan scheme as part of its financial services offerings. This personal product is regulated by the Ministry of Housing and Local Government.
BigPay co-founder and CEO Salim Dhanani says the digital personal loan product is unique for its level of transparency and credit scoring method, which evaluates customer behaviour apart from the history of past loans.
The personal loans offered via the BigPay app have competitive interest rates that are lower than standard credit card rates. Users can generate an instant quote using the in-app loan calculator and then fill in their details via the app to apply for the loan.
The simple process enables the company to approve loans within minutes via the app, making it the fastest loan approval in the country. The feature is currently available to selected users, but due to overwhelming demand, it will be rolled out progressively to more customers in the coming weeks.
AllSome kick-starts on-demand delivery service
AllSome Fulfilment, a cross-border e-commerce fulfilment solutions company, has launched its on-demand delivery solution "Get Today's Order Today" to accelerate the adoption of quick commerce.
The same-day delivery options are likely to result in higher sales turnover rates for brands. This solution is made possible with AllSome's artificial intelligence-backed fulfilment platform and the convenience of its 1,000 flash hub locations across 50 cities.
The "Get Today's Order Today" feature is powered by an AI-driven instant order processing system, which ensures that merchant stock is always readily available at its flash hubs and updated in real time.
With services like order management, inventory storage, product packaging and management, the company's flash hubs act as fulfilment centres, meeting consumer demand for a fast and accurate same-day delivery service provided by third-party logistics partners such as Teleport, Pickupp and Lalamove.
It also allows merchants to keep up with fulfilment seamlessly. AllSome ensures merchant products are shelved and displayed at its flash hubs, instead of having them stored in warehouses, allowing buyers who prefer physical shopping to have a memorable in-store experience.
Moreover, to support brands in widening their reach in the market, AllSome ensures that products are placed in strategic locations such as partnering cafés, salons and gyms to give buyers a chance to experience the products sold.
Already successful in onboarding 300 brands on its platform, including RPG Ventures, AllSome aims to partner with retail chains for a wider same-day delivery adoption, while establishing more hubs around Malaysia. The brand is also looking to extend its services to Indonesia to create sustainable avenues for market expansion on behalf of brands in Malaysia and China.
Cloud security posture management crucial in a pandemic-stricken world
NTT predicts that by 2025, some 99% of cloud security failures will be the fault of the customer. In its February Threat report, the global application security company stated that Cloud Security Posture Management (CSPM) is becoming increasingly important, and a clearer understanding of shared responsibility models (SRM) will help minimise cybersecurity risks to cloud computing.
As more businesses consume cloud services and scale them across one or more providers, CSPM will help improve the threat or risk visibility, reduce complexity, minimise the risk of breach due to misconfigurations and provide the means to evaluate and demonstrate the effectiveness of security and data privacy efforts, it said.
"Throughout the pandemic, the cloud has become a 'must-have', not just a 'nice-to-have', and we expect CSPM to follow the same trajectory," says Nicolas Blot, cloud security and European practice manager at NTT.
"We expect to see this evolution as more business-critical and sensitive data is stored in the cloud — while in parallel, organisations look to reduce the business and operational risk of a breach to their business. Clear, understood and well-defined roles on security are critical to security risk management in any enterprise."
Finexus invests RM10 mil in fintech space in Penang's Creative Digital District
Local technology group Finexus will invest RM10 million over the next five years in the Creative Digital District @ George Town (CD2@George Town) in support of Penang's Digital Transformation Masterplan. The group plans to build a sustainable fintech ecosystem in the state alongside collaborators in the financial technology (fintech) and digital industry.
Finexus group managing director and CEO Clement Loh says the company is looking to work with venture capitalists, fintech firms, digital start-ups and mid-growth companies by providing them with its ready-to-use MyXaaS collaboration platform.
The collaboration platform offers services such as applications-as-a-service, financial products-as-a-service and capital lending, which allows digital companies to build their digital products and services and go to market by leveraging ready-to-use services without having to build many software components from scratch.
Apart from the collaborative platform, the MyXaas everything-as-a-service option consists of an extensive range of software and financial services that include remote onboarding, background and credit checks, legal agreement digital signing, cards, wallets and payments acceptance processing, "buy now, pay later" and enterprise resource planning services.
OPPORTUNITIES
Nurturing digital-ready entrepreneurs and businesses
Standard Chartered Malaysia and Mereka Innovative Education have launched the Digital Entrepreneur with Futuremakers programme, dubbed DE x Futuremakers, to nurture a digital-ready and future-proof workforce.
Funded by the Standard Chartered Foundation, the programme — which started last month and runs until December 2023 — provides scholarships to B40 (bottom 40% income group) youths for the eight-week course that includes a project placement to build technical skills and a one-year career mentorship.
Along with the DE x Futuremakers programme, Digital Business with Futuremakers (DB x Futuremakers) will run concurrently to help small and medium enterprises (SMEs) adapt to the digital economy. Through a one-day workshop, businesses will get exposure to the various ways of growing their business with digital technology and best practices.
Upon completing a digital transformation plan, they will be paired with DE x Futuremakers talents for two weeks to bring their plans to life while expanding on their digital presence and tackling growth. Successful graduates who complete both the programme and project placement will receive an allowance of RM600. SMEs do not incur any costs to participate in the programme.
Ultimately, the programme aims to create a resilient, digitally equipped workforce for the 21st century by exposing Malaysians to the demands of the modern workforce. Recruitment is currently open to individual scholars and SMEs, with cohorts in February, April, June, July and September. For further details, visit www.mereka.my/digital-business/futuremakers.
TEEBAgriFood for Business training programme to help agrifood businesses become more equitable
In collaboration with DHI Malaysia, the Capitals Coalition is offering online training sessions to food businesses in Malaysia.
The TEEBAgriFood for Business training programme will run online for six consecutive months from March 23. It will provide businesses with the opportunity to dive deeper into their business impact and dependence on nature, people and society to enable better decision-making and management of risks and opportunities.
The training programme is free of charge. To sign up, visit us02web.zoom.us/meeting/register/tZwocO-grT8qHd1e_sD_4a7KU-Zts6bNuasZ. For more details, reach out to [email protected] or [email protected].
Funding Societies Malaysia offers exclusive promos to MSMEs
Digital financing platform Funding Societies Malaysia is offering an exclusive promotion for micro, small and medium enterprises (MSMEs) and the general public in conjunction with its fifth anniversary.
MSMEs stand to win up to RM888 worth of e-vouchers for successful business referrals, while investors can win attractive referral rewards with an additional bonus when they refer a minimum of five friends to invest in the platform during the "Arise and Thrive" campaign, which ends on March 31.
The general public can also participate in the campaign by referring businesses to the platform's SME digital financing solutions and stand a chance of winning rewards of up to RM1,000.
Apart from monetary incentives, the platform will conduct a masterclass series that features guests and financial influencers who will share insights into their entrepreneurial journey, as well as social media trivia on its Instagram page where participants can win a Xiaomi MI True Wireless Earbuds Basic 2.
Funding Societies disbursed RM1 billion in business financing last year and raised US$144 million (RM602 million) in Series C+ funding last month. Regionally, the platform has disbursed RM9 billion in business financing through five million financing deals.
For more information, visit fundingsocieties.com.my/promotions.
PEOPLE MOVES
Eddie Hui joins MetaVerse Green Exchange as COO
MetaVerse Green Exchange (MVGX), a digital green exchange, has appointed Eddie Hui as its chief operating officer (COO).
Hui will lead crypto-related initiatives with the aim of creating a bridge between traditional finance and the digital asset world. This will allow MVGX's clients to gain exposure to cryptocurrencies while having the assurance of operating within a regulated framework.
Hui has over 20 years of experience in the financial industry and worked for global investment bank Société Générale for most of his career. He graduated in 1999 from Ecole Nationale Supérieure d'Electrotechnique, Electronique, Informatique, Hydraulique de Toulouse, a French engineering school. He holds a Master of Science in engineering.
MVGX has recently expanded the application of its Non-Fungible Digital Twin (NFDT) technology to other products and services. It has launched its Carbon Neutrality Management System, which is available to clients alongside cryptocurrencies, and its Carbon Neutrality Token (CNT). It plans to launch a mobile app by next month.
Hiredly gets a new leadership team
Hybrid recruitment platform Hiredly has recruited several leaders to focus on three key areas of the company — artificial intelligence (AI), recruitment and marketing — to drive its vision of revolutionising the industry through its AI-driven hybrid recruitment strategy.
Chong Theng Hui has been appointed chief technology officer. He has extensive experience and knowledge working with data and AI. He brings more than 19 years of experience in the technology space, having served most recently as head of innovation technology and projects at PLUS Malaysia.
Lau Mun Yee started as vice-president of marketing at the company. She has more than nine years of marketing experience, most recently as Carousell Malaysia's country marketing manager. She was also country manager of MGAG, a media company.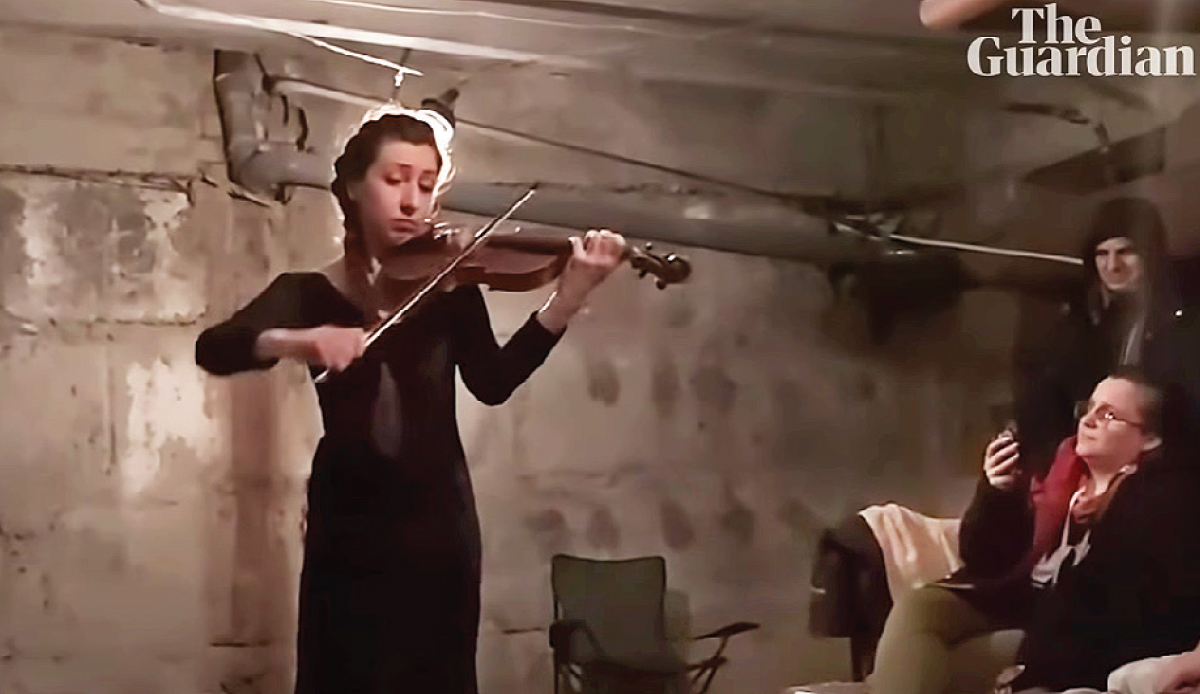 PICTURE OF THE WEEK
Violinist and teacher Vera Lytovchenko played her violin in a basement in Kharkiv for her fellow residents who were hiding from the Russian bombing above ground. The video of Lytovchenko playing the Ukrainian song titled The Night is So Moonlit has gone viral on Twitter.
EDITOR's MUST-HAVES
KonMari your phone with SHAREit
Many of us keep a lot of stuff in our phones — files downloaded ages ago and pictures we do not need anymore, cached items and cookies from websites and just too many applications operating in the background. We usually do not realise it until the device memory is full, at which point the housekeeping of years and years of data becomes a painstaking and time-consuming chore.
SHAREit helps to manage files in a phone with its special features, including the phone cleaner, phone booster and battery saver function, to ensure optimal usage of the device memory and overall improvement in user experience.
The app helps to clear junk, including duplicates and oversized files, while clearing the cache on WhatsApp. It also helps to retrieve and shut down background applications, something that is usually overlooked when we are on our phones.
SHAREit is available as a free download on Google Play and the App Store.
"Epic is stopping commerce with Russia in our games in response to its invasion of Ukraine. We're not blocking access for the same reason other communication tools remain online: the free world should keep all lines of dialogue open."
Many tech companies are suspending or restricting their operations in Russia after it invaded Ukraine earlier this month. Netflix, PayPal, Adobe, TikTok and Mastercard are among them. Other game publishers such as Nintendo and Ubisoft have also announced that they will be suspending sales in Russia.
TECH BOOKS
Algorithms of Oppression: How Search Engines Reinforce Racism by Safiya Umoja Noble
What will you find if you run a Google search for "black girls"? "Big Booty" and other sexually explicit terms are likely to come up as the top search terms. But if you type in "white girls", the results are radically different.
The suggested porn sites and unmoderated discussions about "why black women are so sassy" or "why black women are so angry" present a disturbing portrait of black womanhood in modern society.
In Algorithms of Oppression, Safiya Umoja Noble challenges the idea that search engines such as Google offer an equal playing field for all forms of ideas, identities and activities.
Data discrimination is a real social problem. Noble argues that the combination of private interests in promoting certain sites, along with the monopoly status of a relatively small number of internet search engines, leads to a biased set of search algorithms that privilege whiteness and discriminate against people of colour, specifically women of colour.
Through an analysis of textual and media searches as well as extensive research on paid online advertising, Noble exposes a culture of racism and sexism in the way discoverability is created online.
As search engines and their related companies grow in importance — operating as a source of email, a major vehicle for primary and secondary school learning and beyond — understanding and reversing these disquieting trends and discriminatory practices is of utmost importance.
An original, surprising and, at times, disturbing account of bias on the internet, Algorithms of Oppression contributes to our understanding of how racism is created, maintained and disseminated in the 21st century. — Amazon
DIGITIONARY
Phygital
Phygital is the concept of using technology to bridge the digital world with the physical. The goal is to provide a unique interactive experience for the user.
For example, McDonald's has introduced self-ordering kiosks that allow users to order food and beverages and complete the payment process digitally despite being physically present at the fast food restaurant. The system allows routine tasks to be completed quickly and efficiently using digital technology in a specific physical space.
Save by subscribing to us for your print and/or digital copy.
P/S: The Edge is also available on Apple's AppStore and Androids' Google Play.